HYAA Boys 14U Travel Team Wins Season Finale
The HYAA14u boys travel baseball team ended their summer with a victory over the NJ Nationals at Arm & Hammer Stadium - home of the Trenton Thunder.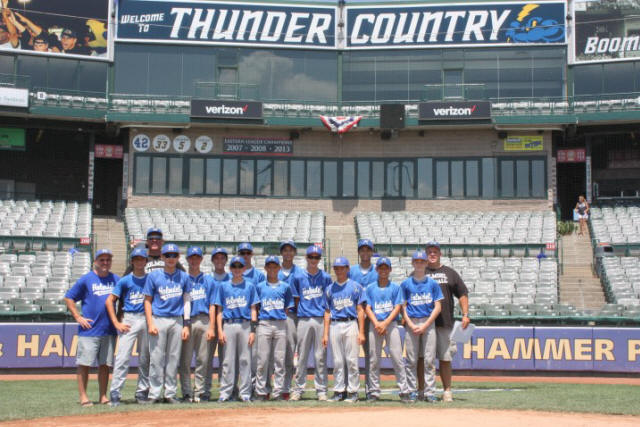 Majors 3 Homerun Derby Winners
Majors 3 rec baseball wrapped up their season with the annual Home Run Derby at Phillips Park. Pictured left to right: Nick Demech (runner up 8th/9th), Sal Marzano (runner up 8th/9th), Mac Rainess (Champion 7th grade), Kyle Esposito (Champion 8th/9th).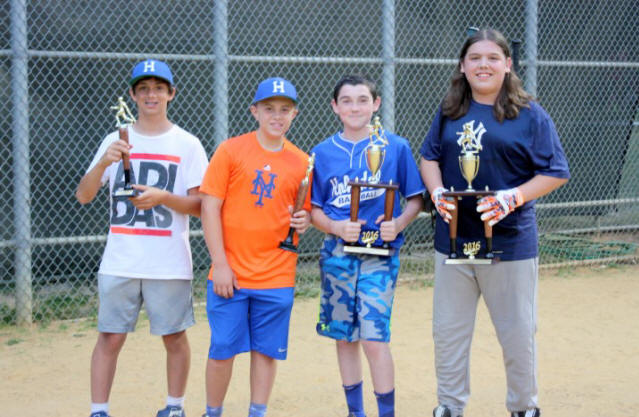 Holmdel's Gators Lose Nail Biter to Hazlet's Flamingos in Final
The Holmdel Under-10 recreational softball program ended the season with an exciting, inter-town playoff series between Coach John Martinez's team and Coach Michael Flaherty's Gators. The Gators won the series and went on to play the Hazlet champs on June 16 for the local "Rec" crown. Read more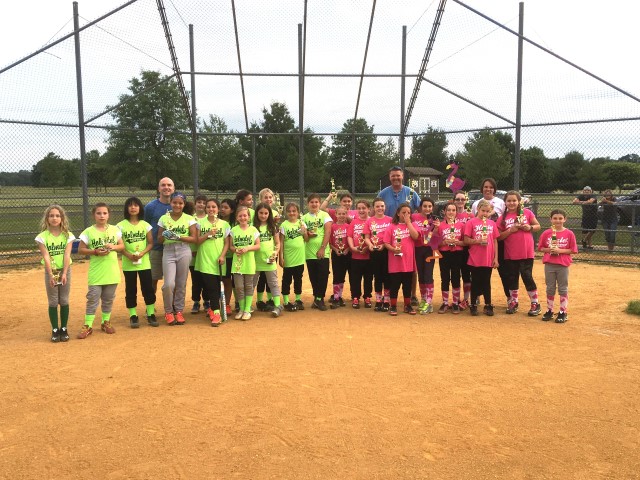 Orioles Claim Majors 2 Championship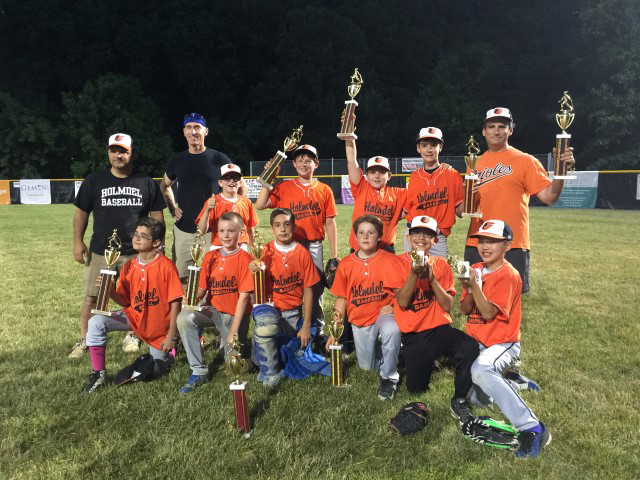 Bottom Row: Tyler Taddio, Brayden Savage, Jonvito Lobifaro, Joey Ricci, Justin Borges, Elliot Chun. Back Row: Coach D'Ambrosi, Coach Levonas, Chris Levonas, Jake Nied, Nick D'Ambrosi, Ryan Harris, Coach Harris. Not Pictured: Steven Ciervo.
Pirates take Majors 1 Rec Championship
The Pirates beat the A's in a well played game for the Majors 1 (grade 3/4) boys rec championship to close out the 2016 season. Congrats to all teams on a great season.
Bottom row l-r: Luke Buda, Javier Hip Flores, Tyler Reddy, Casey Brew, Joe Sotile. Top Row: Alex Borgan, Anthony Setteducate, Cole Hupka, Casey Brew, Curtis Chupufka, Todd Julian. Coaches: Pete Reddy, Anthony Setteducate, Rocco Impreveduto.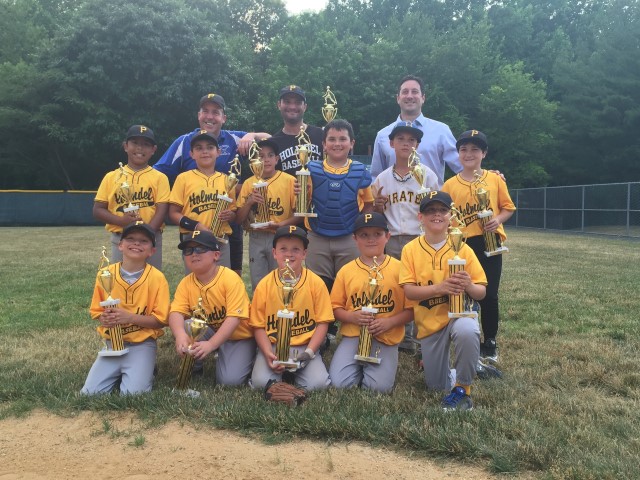 HYAA's 1st Ever 8U Travel Softball Team
For the first time in the history of Holmdel softball, HYAA fielded an 8U travel team. The team came to fruition following free travel clinics offered in the fall and winter by head coach Anthony Vanario. Each Sunday, 20+ girls came out to learn the game, hone their skills, and bond with teammates. The 8U Holmdel Hornets played their inaugural season this past spring as part of the All-Shore Softball league. Competing against more seasoned and experienced teams, the Hornets held their own and finished 3rd overall. The team consisted of 14 girls born in 2007 and 2008, and were coached by Anthony Vanario, Gary Lewandowski, Jason Dulow, and Bruce Henderson. Most importantly, the girls developed their interest in the sport, improved each game, and enjoyed their time together as a group. Enthusiasm remains high as the team looks forward to the start of their Summer League.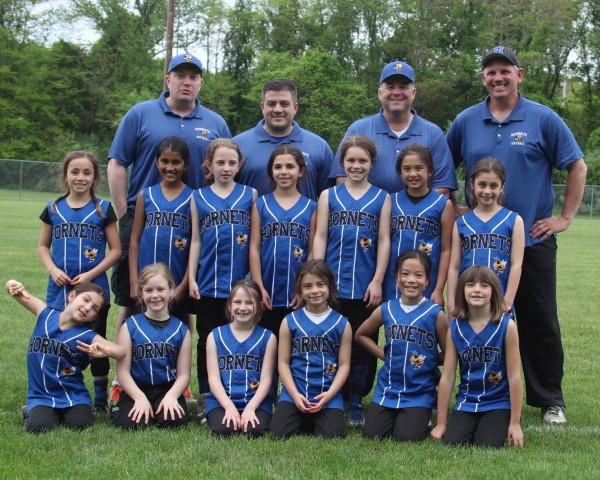 Front row: left to right. Madolin Bodsford, Delaney Savage, Molly Dasaro, Emma Vanario, Kasey Lau, Samantha Ayers.
Middle row: Francesca Del Presto, Maiya Varma, Julia Henderson, Juliana Kennedy, Avery Lewandowski, Haley Dulow, Rachel Yasnowski.
Back row: Gary Lewandowski, Anthony Vanario, Jason Dulow and Bruce Henderson.
HYAA Softball Coaches Handbook - All New 2016 Edition
Be sure to check out the updated 2016 Holmdel Softball Coaches Handbook. The guide contains lots of great practice ideas and videos to help coaches understand how we like to teach our players.
HYAA Softball Pitching Clinic Starting Soon - check back for details
Our HYAA softball pitching clinic is a new program starting in Holmdel in an effort to develop many talented pitchers to support our rec, travel and school programs. This introduction to pitching is the first in a series of progressive pitching clinics HYAA will offer our female athletes. They will run in six or eight week cycles and our goal is to have our players progress through the programs over a nine to twelve month period. There is no obligation to continue and players can drop out at any time. The clinic will be led by Suzanne Hennessey, a former Division 1 pitcher at St. Peter's college and an experienced player and coach. Details about the clinic will be posted here shortly.
Soccer Registration Now Open
Forms can be returned to the HYAA office with a check made out to HYAA. Forms can also be printed using the link below. Online registrations are also being accepted, credit card payments only.
Registrations received after August 19th are subject to a $50 late fee.
See the soccer section for registration forms and information.
Big Shots Pre-K Clinic
HYAA will also be running a Big Shots Pre-K Soccer clinic for children ages 4-5. See the soccer section for registration forms and information.
4th Grade Girls Lacrosse Team Goes Undefeated at Inaugural "Run for the Roses Lax Jamboree"!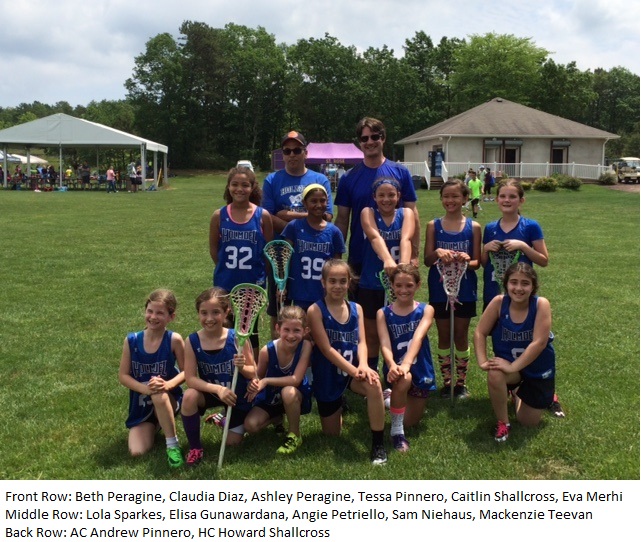 Travel Basketball Tryout Deadline Approaching
Travel basketball tryouts and coaching application deadline is approaching. Check the basketball page for details.
Basketball Skills Clinics
HYAA will be conducting skills clinics for Girls in K through 1st grade and for Boys in 2nd grade (SOLD OUT). The 5-session clinics will start April 29th for the girls and May 2nd for the boys. The cost is $25. All interested need to complete the appropriate registration form and return it to the HYAA office with your check.
2016 Spring Wrestling Clinic
HYAA Wrestling will be conducting a Spring Wrestling Clinic. Sessions will be held on Fridays, beginning April 8th thru June17th from 6:00 – 7:30 pm at the High School wrestling room. No session May 27th.
Get more Info on the clinic and all other news about the HYAA Wrestling program at HolmdelWrestling.com.
MISCELLANEOUS
Important Dates
| | |
| --- | --- |
| Aug 19 | Soccer Registration Ends - $50 late fee |
| Sep 10 | Soccer Season Begins |
HYAA Volunteer Paints Dugouts
HYAA extends a very big thank you to Holmdel baseball parent Laura Mihalenko for the fabulous job she did painting the Hornets banner and logo on the new dugouts at the Phillips Park lower field. Thanks so much Laura!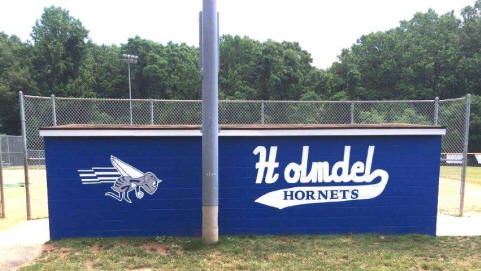 Holmdel offers a wide variety of summer sports camps in baseball, softball, football, basketball, lacrosse, tennis, field hockey, volleyball, wrestling, track, and dance/cheer. Camps are offered to students entering 2nd through 8th grade this September. See the full schedule for the camp programs and the registration forms.
Thanks to the HYAA Sponsors
HYAA would like to thank all of our sponsors for their donations and continued support of our programs.
Bull Pen Baseball & Sports Academy
C & C Air Conditioning & Heating
CK's Baseball 4U
Cold Stone and Blimpies
Cracked Olive
Dicks' Sporting Goods
Elizabeth Truck Center
Gemini Laboratories
Hoch Orthodontics
I Play
JRC Etectrical
Modell's
Rockwell Dentistry
RTI Builders
Salerno's Pizzeria
Shrewsbury Orthodontics
Stillwell Hansen Inc.
Stop & Shop
Vonage
HFEE Second Annual 5K and Kids Fun Run
Please join the HFEE for its Second Annual 5K and Kids Fun Run on Sunday, June 5, 2016 at Bell Works! Last year's inaugural event attracted almost 300 participants and a fun morning was had by all. This year we added a DJ and hope to see even more members of our community participate. Please click here to register: https://runsignup.com/Race/NJ/Holmdel/HFEE5KWalkRun.
Time To Help One of Our Own
After fighting and recovering from cancer just two years ago, Tim McDonnell, Sr. received the phone no parent ever wants to receive. His son Tim, Jr. while attending Rutgers was struck by a car and placed in a medically induced coma. Now weeks later, Tim faces a long road to recovery, currently in a rehabilitation center showing some signs of hope.
The outpouring of support both from the Rutgers & local communities has been overwhelming but as you might imagine, the family faces mounting medical bills.
A website has been created www.FightforTimmy.com that provides more information as well as accepts donations online. Click here for some additional information.
The McDonnells have been involved in and supported many charities in the past and we are asking everyone's support to now help them in this difficult time.
Coach Background Checks
Coaches must fill out the background check form, and bring a driver's license to the office or to a Pre-Season Coaches Meeting in order to coach in HYAA. This applies to all head coaches and assistants. The fee will be paid by HYAA. Forms will be available at the monthly HYAA meetings, in the HYAA office, and at any Pre-Season Coaches Meetings. Background checks must be completed every two years.
Coach's Guide to Concussions in Youth Sports
Please use link below to take the CDC free Coach's Concussion Course:
http://www.cdc.gov/concussion/headsup/training/index.html
You can use this link for downloadable materials available from the CDC website on concussions:
http://www.cdc.gov/concussion/HeadsUp/youth.html
HYAA Advertising Program
Please partner up with HYAA and help serve the youth of our community by providing them with the necessary tools to learn the sports of Baseball and Softball.
PROMOTE YOUR BUSINESS WITHIN THE COMMUNITY
HYAA is offering a sponsorship opportunity for 2015 at our busy Phillips Park Fields. All signs will be displayed for the entire season. Be sure to print out the HYAA Sponsorship form and return it to the HYAA office.
ADVERTISEMENT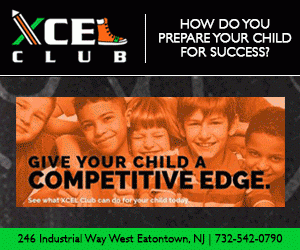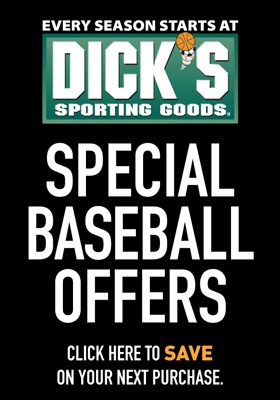 Holmdel Township Recreation Department
Programs and activities are also available through the Holmdel Townships Parks and Recreation website. Click here for additional information.