Basketball Season Ends With March Madness Games
The 2017 basketball season official came to a close with the annual March Madness All-Star games. Thanks to all who made the day possible and to all the kids who entertained the crowds with some very exciting games.
The webmaster was on hand to take some pictures of the boys 5th and 6th grade games and if anyone has photos to share please send them in.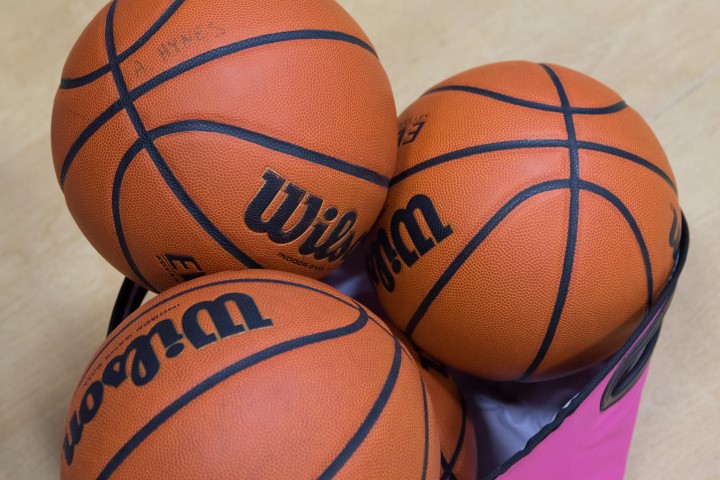 Travel Basketball Teams Take Home Titles in Mid-Monmouth Playoffs
The Holmdel basketball travel teams concluded their Mid- Monmouth winter seasons in an impressive fashion over the weekend of March 11-12 by taking home two titles along with a runner-up finish and an overtime semifinal loss in the 5 divisions of Boys and Girls play. The Mid-Monmouth Winter League consists of over 30 teams spread across Monmouth and Ocean counties. Read more
More Travel Team Success
The Holmdel Boys 6B team lost in the championship game to west Windsor which capped off a very successful season. Coached by Brian Hynes, Ray Baker & Brian Gordon.
The Boys 4B team lost a tough one in the semi-finals for the mid-Monmouth playoffs capping off a solid season & huge improvement from the season before. Coached by Dom Serini, Pete Reddy & Brian Gordon.
Holmdel HS's 3rd Annual 3-on-3 Tournament
The Holmdel High School TV and Film Society will be holding the 3rd Annual 3-on-3 Tournament on March 29th in the HS gym. The tournament is open to kids in grades 5-12 and will be broken up into three divisions: 5th/6th grade, 7th/8th grade, and High School.
The entry deadline is March 22nd and teams MUST register to compete. Complete the registration form and send it with your check, payable to Holmdel HS, to Mr. DeNovellis. Contact Mr. DeNovellis with any questions.
Baseball Registration Now Closed
Baseball registration is now closed for the 2017 season. Registration forms can be printed and sent with your check to the HYAA office with no guarantee of placement on a team. Online registration is no longer available.
Coaches Clinic/Meeting Monday March 20th 8pm
We are holding a meeting to help provide all of our coaches with information and resources to make the season as successful as possible. Please plan on attending. HYAA Softball is open to all Holmdel girls ages 5-13 and is a fun, instructional league with games in Holmdel and neighboring towns. The clinic will be held in the Satz gym on March 20th at 8pm.
Yankees Game Day
The Holmdel Travel Softball Program is hosting a day at Yankee Stadium on Sunday July 30th. Everyone who attends get a seat in the 200 section. Players in a Holmdel team jersey will get the chance to march in a pregame parade on the field. Each player participating in the parade will also receive a $10 Models gift card and a voucher for two tickets to a future Yankees game. Participants get all of this for only $50 per ticket. Best of all, proceeds for this event benefit the Holmdel Travel Softball Program. Be sure to download the printable registration form.
REGISTRATIONS ARE NO LONGER BEING ACCEPTED
FOR THE GIRLS PROGRAMS
Registrations are still being accepted for the 2017 Boys Lacrosse programs but space is limited
Boys LAX 3/4 Boys at Rutgers
The boys 3rd/4th grade lacrosse team had the opportunity to play during halftime of the Rutgers game last Friday night.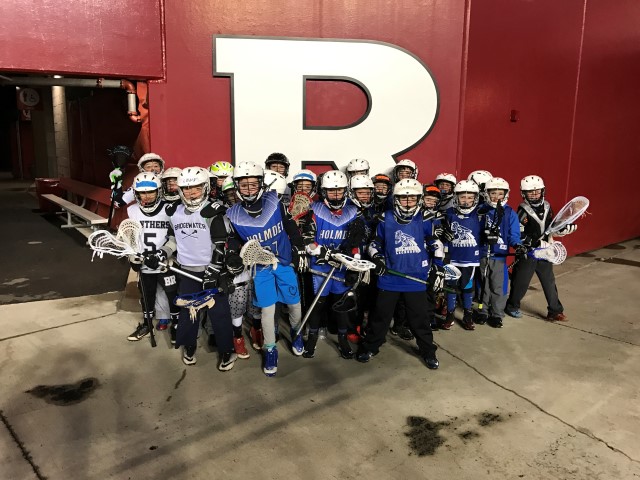 For information on HYAA wrestling please go to HolmdelWrestling.com.
MISCELLANEOUS
Important Dates
Mar 22
Chipotle Fundraiser to benefit HYAA Baseball
5-8pm at Chipotle in Holmdel - see the flyer for details
Mar 29
Umpire Clinic for Baseball & Softball
7 p.m. at HHS in room 411
Apr 3
Rutgers SAFETY Course - Reserve your seat
Apr 4
Chipotle Fundraiser to Benefit 9U Travel Baseball
5-8pm at Chipotle in Holmdel - see the flyer for details
Chipotle Fundraisers Support HYAA Baseball
Show your team spirit by joining us for a fundraiser to support HYAA's Baseball Program. Come in to the Chipotle at 2131 Rte 35 in Holmdel on Wednesday, March 22nd between 5:00pm and 8:00pm. Bring the flyer, show it on your phone, or mention it to the cashier and 50% of the proceeds will go towards the program.
Chipotle will be hosting aa second fundraiser to benefit HYAA's 9U travel baseball team. Bring the flyer, show it on your phone, or tell the cashier when you go on Tuesday, April 4th between 5:00pm and 8:00pm and 50% of the proceeds will go towards the 9U team.
Modell's Team Week - Save Money and Support HYAA
HYAA is happy to announce Modell's Team Week will run from Tuesday, March 21 through April 27. In addition, on 3/25 & 3/26 Modell's will have an HYAA weekend. The staff will be on hand to assist everyone with questions in regards to bats, gloves and Lacrosse equipment. For the weekend HYAA members will be given 20 percent off.
Be sure to print out the coupon and use it as many times as you like. You'll save money and part of the proceeds will benefit HYAA. Thanks again to Modell's for supporting HYAA.
Rutgers SAFETY Course
HYAA will once again be hosting the Rutgers SAFETY course which is required for all coaches in the program. The course will be held on April 3rd. The course is free for Holmdel residents, $40 for non-Holmdel residents. Please be sure to reserve your seat as the course tends to fill up quickly.
HYAA Advertising Program
Please partner up with HYAA and help serve the youth of our community by providing them with the necessary tools to learn the sports of Baseball and Softball.
PROMOTE YOUR BUSINESS WITHIN THE COMMUNITY
HYAA is offering a sponsorship opportunity for 2017 at our busy Phillips Park Fields. All signs will be displayed for the entire season. Be sure to print out the HYAA Sponsorship form and return it to the HYAA office.
Thanks to the HYAA Sponsors
HYAA would like to thank all of our sponsors for their donations and continued support of our programs.
Bull Pen Baseball & Sports Academy
C & C Air Conditioning & Heating
CKís Baseball 4U
Cold Stone and Blimpies
Cracked Olive
Dicksí Sporting Goods
Elizabeth Truck Center
Gemini Laboratories
Hoch Orthodontics
I Play
JRC Etectrical
Modellís
Rockwell Dentistry
RTI Builders
Salernoís Pizzeria
Shrewsbury Orthodontics
Stillwell Hansen Inc.
Stop & Shop
Vonage
Coach Background Checks
Coaches must fill out the background check form, and bring a driverís license to the office or to a Pre-Season Coaches Meeting in order to coach in HYAA. This applies to all head coaches and assistants. The fee will be paid by HYAA. Forms will be available at the monthly HYAA meetings, in the HYAA office, and at any Pre-Season Coaches Meetings. Background checks must be completed every two years.
Coach's Guide to Concussions in Youth Sports
Please use link below to take the CDC free Coach's Concussion Course:
http://www.cdc.gov/concussion/headsup/training/index.html
You can use this link for downloadable materials available from the CDC website on concussions:
http://www.cdc.gov/concussion/HeadsUp/youth.html
ADVERTISEMENT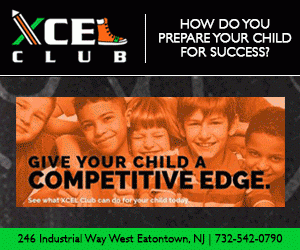 Holmdel Township Recreation Department
Programs and activities are also available through the Holmdel Townships Parks and Recreation website. Click here for additional information.