Playoffs Are Over
Playoffs are officially over..Coach Serini's team became the first championship of the season, taking the Boys 4 crown. Both girl's leagues played their final games Monday night with Coach Yasnowski winning in the 3rd/4th grade and Coach McAulay taking the championship in the 5th/6th. On Wednesday Coach Buontempo's team won boys 7/8. Earlier Coaches Sardo and Ng won the 9/10 and 11/12 brackets of the high school league.
All of the playoff brackets are available on the basketball page.
Girls 3/4 Champ - Team Yasnowski
Front Row: Emma Purcell, Jenna Yasnowski, Sophia Chiusano, Olivia Kraus, Bailey Pierson. Back Row: John Yasnowski, Claire GIllespie, Josephine Colantoni, Leah Sidhom, Richard Pierson.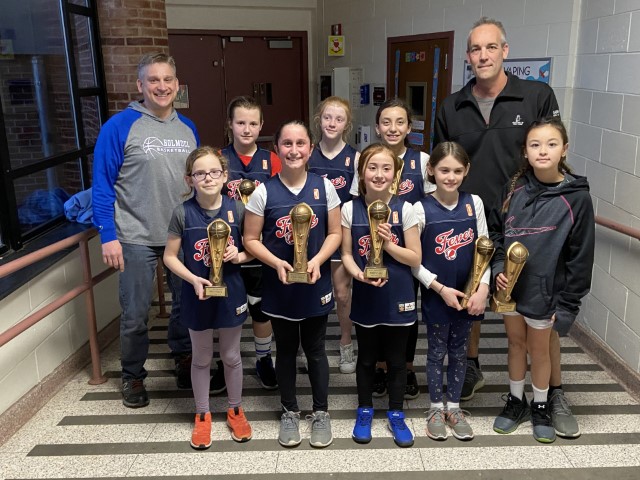 Girls 5/6 Champ - Team McAulay
Front Row: Shannon Naughton, Laina Lasalandra, Natalie Clifford, Laya Samra, Emma Lynn. Back Row: Alessandra Luccarelli, Julia McAulay, Kyla Kidorf, Rachel Yasnowski, Coach Laura McAulay.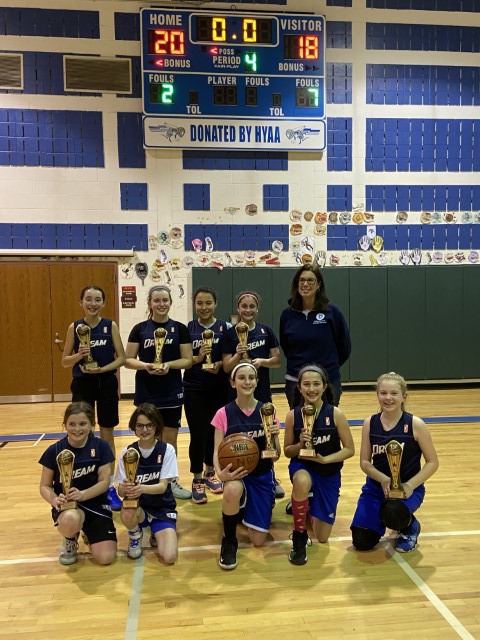 The 2019/20 season finishes off with the annual March Madness All-Star games on Saturday, March 21 in the High School gyms.
Girls Lacrosse Clinic
Registration Opens Monday, March 2nd - Girls LAX Clinic Registration Form
HYAA will offer our K-2nd Clinic.
Clinic Program Offering
HYAA will be offering an instructional skills lacrosse clinic for girls in grades K- 2. This clinic is a fun way for girls to learn the fundamentals of the sport and to learn from experienced players.
Additional parent volunteers are needed for the clinic!!!
See additional details about the clinic on the lacrosse page.
MISCELLANEOUS
Important Dates
Mar 21
Basketball March Madness Games
Mar 24
Rutgers SAFETY Course
POSTPONED
Apr 18
Baseball/Softball Opening Day
HYAA Rutgers SAFETY Course
POSTPONED
HYAA's session of the Rutgers SAFETY course previously scheduled on Tuesday, March 24th, has been postponed.
HYAA 2020 Boys/Girls Volleyball Program
HYAA is proud to announce we will now be offering a Volleyball Program for Girls and Boys Grades 6-12!
This is a brand-new program. Our target for the program is to have one weekday session and one Saturday session for each age group. The age groups and number of sessions per week will depend on the number of registrations.
Starting Date: Week of 3/21
This program is a great way to learn the sport from a seasoned coach and a great opportunity for current or prospective High School players to get some extra time on the court.
Please register on TeamSnap and we will keep you posted on timing and location.
Registration fee: $100
HYAA Rules for Training in BOE Gyms
Please remember that HYAA is a guest of the Holmdel Board of Education. With this in mind, commissioners must relay to their coaches appropriate rules and regulations for indoor training. The rules listed below are to be used as guidelines, however, should be adjusted by individual sports in order to maintain the integrity of the gyms:
Only "soft" balls or "softies" should be used when playing any outdoor sport, indoors in the gyms.

At no time should tape be used on any gym/cafeteria floor.

Only sneakers can be worn, absolutely no cleats.

No hitting or throwing of balls against the gyms walls or bleachers.

Any unintentional damage to the gyms must be reported to the HYAA office immediately so that the BOE can be contacted.
The sport that causes damage will be responsible for the cost of repair.

Repeated violation of any of these rules will result in gym privileges being revoked for that particular team and/or sport.
Coach Background Checks
In order to coach or assistant coach for HYAA, you must fill out the background check form. The fee will be paid by HYAA. Forms will be available at the monthly HYAA meetings, in the HYAA office, and at any Pre-Season Coaches Meetings. Be sure to read HYAA's background check policy for details. Background checks must be completed every two years. All coaches and assistant coaches who haven't filled out this form in the last two years should print and scan a completed copy to the HYAA office at admin@hyaa.org along with a driver's license. Information is kept private and confidential. Any questions, please contact the office.
All coaches and assistant coaches who haven't filled out this form in the last 2 years years should print and scan a completed copy to the HYAA office at admin@hyaa.org.
HYAA Advertising Program
Please partner up with HYAA and help serve the youth of our community by providing them with the necessary tools to learn the sports of Baseball and Softball.
PROMOTE YOUR BUSINESS WITHIN THE COMMUNITY
HYAA is offering a sponsorship opportunity for 2020 at our busy Phillips Park Fields. All signs will be displayed for the entire season. Be sure to print out the HYAA Sponsorship form and return it to the HYAA office.
HYAA Registrations Through Teamsnap
The HYAA organization has moved to a TeamSnap registration process. TeamSnap is an online and mobile-enabled sports team management application that allows our league, coaches and parents a more efficient means of communicating schedules and team events. If you do not have a TeamSnap account, you will be asked to create one as you register (requires an email address and password). Please register using the online form found on our website's LACROSSE page (www.HYAA.org). EVERYONE MUST CREATE A FAMILY ACCOUNT and register your child(ren) on TeamSnap. All registrations require a credit card payment at the time of registration.
Thanks to the HYAA Sponsors
HYAA would like to thank all of our sponsors for their donations and continued support of our programs.
C & C Air Conditioning & Heating
CK Baseball 4U
Cold Stone and Blimpies
Cracked Olive
Dicks Sporting Goods
Elizabeth Truck Center
Hoch Orthodontics
JRC Electrical
Modell's
Rockwell Dentistry
Salerno's Pizzeria
Shrewsbury Orthodontics
Stillwell Hansen Inc.
Stop & Shop
Vonage
Coach's Guide to Concussions in Youth Sports
Please use link below to take the CDC free Coach's Concussion Course:
http://www.cdc.gov/concussion/headsup/training/index.html
You can use this link for downloadable materials available from the CDC website on concussions:
http://www.cdc.gov/concussion/HeadsUp/youth.html
Holmdel Township Recreation Department
Programs and activities are also available through the Holmdel Townships Parks and Recreation website. Click here for additional information.