Holmdel HS Girls Soccer Helps Out During Opening Day
A BIG thank you from HYAA Soccer to all the players who came out to help our teams. You made the day so much fun for our young players! And thank you coaches Gelpke and Brennan for helping train our players during the day- we hope they will be a part of your team in the future!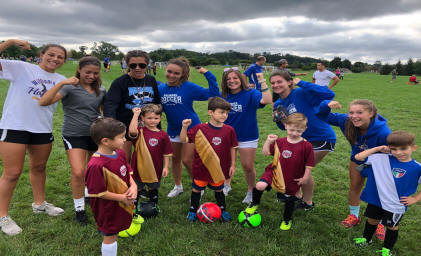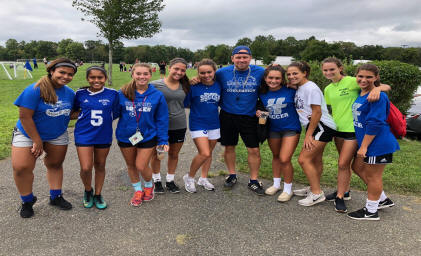 Come out and support the Holmdel High School Boys and Girls Varsity teams on HYAA Night
Boys v. Red Bank Catholic HS on Thursday, Oct. 4 at 6:30pm at Holmdel HS Roggy Field
Girls v Trinity Hall HS on Monday, Oct. 8 at 6:15pm at Holmdel HS Roggy Field
Volunteers Needed For HYAA Rec Soccer
We are looking for student volunteers 7th-9th grade for community service hours. Flexible schedule Sat 9am-11:45am and/or Tue/Thu evenings 5:30pm-6:45pm. Contact Jim Calhoun at jimcalhoun1@verizon.net or 732-939-7930.
Travel Basketball Tryouts for Boys 3rd Grade and Girls 4th Grade coming soon
HYAA will be holding travel team tryouts for the Boys 3rd grade and for the Girls 4th grade at the end of September and early October. With sufficient interest, qualified coaching volunteers and available gym time we will also consider forming B teams based on the tryouts. Travel teams are highly competitive, there will need to be some cuts as part of the evaluation process and there is no guaranteed playing time. In addition, travel players are expected to attend a minimum of 75% of their practices and games, failure to achieve this minimum level of participation can significantly affect playing time.
The HYAA recreation program, which is more developmental and ensures a relatively even level of playing time, will be accepting sign-ups in October.
Exceptional 2nd grade boys can try out for the Boys 3rd grade teams (2-3 are sometimes selected). Exceptional 3rd grade girls can try out for the Girls 4th grade team (2-3 are sometimes selected).
You must complete the online registration form no later than Friday, September 21st.
Please see the basketball page for the travel team tryout schedule.
Early Registration Begins Sep 21
Early registration for the upcoming rec basketball season begins on Friday, September 21. Be sure to register by Oct 7th for the early registration discount. Practices begin the week of November 12th and games December 10th.
Please use the Teamsnap form to submit your registration
Important Registration Information
The HYAA organization has moved to a TeamSnap registration process. TeamSnap is an online and mobile-enabled sports team management application that allows our league, coaches and parents a more efficient means of communicating schedules and team events. Our registration process will be very similar to what we have in place today and will take less than two minutes to complete. If you do not have a TeamSnap account, you will be asked to create one as you register (requires an email address and password). Please register using the online form found on our website's soccer page (www.hyaa.org). EVERYONE MUST CREATE A FAMILY ACCOUNT and register your child(ren) on TeamSnap. You can pay online by credit card or forward a check to the HYAA office. If you pay by check, please make sure that you put your child's name(s) and grade on the re line of the check or on a separate piece of paper when dropping off or mailing to the office (P.O. Box 49 Holmdel, NJ 07733).
Baseball Travel Team Tryouts
HYAA will be conducting travel baseball tryouts for the following age groups:
ELIGIBILITY RULES
Age/Division Born on or after
12u May 1, 2006
11u May 1, 2007
10u May 1, 2008
9u May 1, 2009
8u May 1, 2010
Please see the baseball page for tryout information and be sure to complete the required tryout registration form by Friday, September 28th.