Travel Basketball Tryouts
HYAA will be holding travel team tryouts for the Boys 4th, 5th, 6th, 7th and 8th grades and for Girls 5th, 6th, 7th, and 8th grades. These grade levels are what the boys and girls will be going into in the fall, not their current grade. The tryouts will be conducted in late May and early June, with the exact dates and times posted on the HYAA basketball page.
Travel Softball Tryouts
Interested in joining the Hornets? The Holmdel Softball Travel Program is looking to add girls who love playing softball and being part of an all Holmdel team. We will hold tryouts from June 5-8 with exact dates for each age group shown below:
12U - Monday June 5
10U - Tuesday June 6
8U - Wednesday June 7
14U - Thursday June 8
Make Ups - Friday June 9
Many Thanks to Former Commissioners Briamonte and Migliazza!
As incoming commissioners we are grateful to the many years of hard work that Chris Briamonte and Giovanni Migliazza have dedicated to the softball program during their tenure. Without their commitment to softball, the recreation and travel programs would not be what they are today.
Yankees Game Day
The Holmdel Travel Softball Program is hosting a day at Yankee Stadium on Sunday July 30th. Everyone who attends get a seat in the 200 section. Players in a Holmdel team jersey will get the chance to march in a pregame parade on the field. Each player participating in the parade will also receive a $10 Models gift card and a voucher for two tickets to a future Yankees game. Participants get all of this for only $50 per ticket. Best of all, proceeds for this event benefit the Holmdel Travel Softball Program. Be sure to download the printable registration form.
HYAA 8U Travel Team Plays Bat Boy For Holmdel HS
On Monday, May 8, the Holmdel High School baseball team hosted the Ocean township Spartans. During that game, the HYAA 8U travel baseball team had the very special privilege of serving as bat boys for Coach Chris Arecchi's Hornets varsity team. It was a great afternoon for the 8U team — the boys really enjoyed it. It was nice for them to see "what could be". HYAA would like to thank Coach Chris Arecchi and Athletic Director Shane Fallon for hosting the boys, and for instilling the spirit of Holmdel Baseball in one of our youngest travel teams. Hopefully some of these boys will get a chance to wear the Blue and White of Holmdel High on the baseball diamond in the future.
Players included Ryan Quigly, Owen Gillespie, Tyler Scarpino, Dylan Placca, Anthony Bavaro, Dylan Carri, Fredrick Viole, and Nicholas Paulino.
In the photo below High School Varsity Coach Chris Arecchi is behind the boys, with HYAA Baseball Commissioner Joe Hroblak in the background to the right.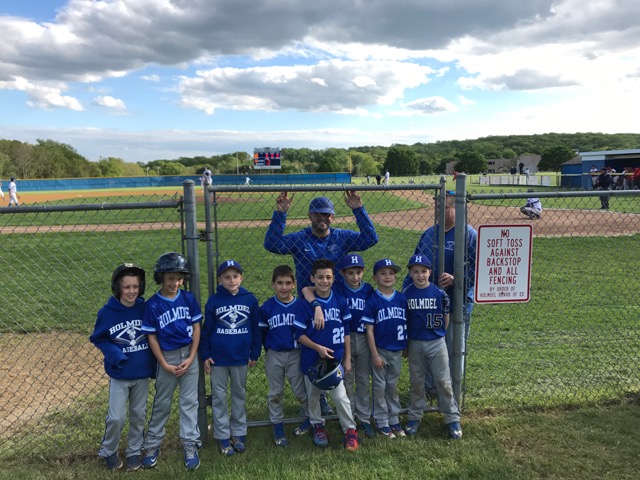 Dylan Placca and Fredrick Viole watch the action from the dugout.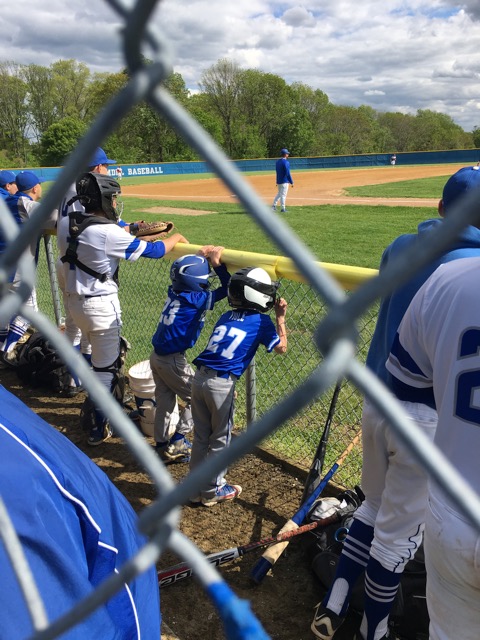 For information on HYAA wrestling please go to HolmdelWrestling.com.
MISCELLANEOUS
Important Dates
HYAA Advertising Program
Please partner up with HYAA and help serve the youth of our community by providing them with the necessary tools to learn the sports of Baseball and Softball.
PROMOTE YOUR BUSINESS WITHIN THE COMMUNITY
HYAA is offering a sponsorship opportunity for 2017 at our busy Phillips Park Fields. All signs will be displayed for the entire season. Be sure to print out the HYAA Sponsorship form and return it to the HYAA office.
Thanks to the HYAA Sponsors
HYAA would like to thank all of our sponsors for their donations and continued support of our programs.
Bull Pen Baseball & Sports Academy
C & C Air Conditioning & Heating
CCK's Baseball 4U
Cold Stone and Blimpies
Cracked Olive
Dicks' Sporting Goods
Elizabeth Truck Center
Gemini Laboratories
Hoch Orthodontics
I Play
JRC Etectrical
Modell's
Rockwell Dentistry
RTI Builders
Salerno's Pizzeria
Shrewsbury Orthodontics
Stillwell Hansen Inc.
Stop & Shop
Vonage
Coach Background Checks
Coaches must fill out the background check form, and bring a driver's license to the office or to a Pre-Season Coaches Meeting in order to coach in HYAA. This applies to all head coaches and assistants. The fee will be paid by HYAA. Forms will be available at the monthly HYAA meetings, in the HYAA office, and at any Pre-Season Coaches Meetings. Background checks must be completed every two years.
Coach's Guide to Concussions in Youth Sports
Please use link below to take the CDC free Coach's Concussion Course:
http://www.cdc.gov/concussion/headsup/training/index.html
You can use this link for downloadable materials available from the CDC website on concussions:
http://www.cdc.gov/concussion/HeadsUp/youth.html
ADVERTISEMENT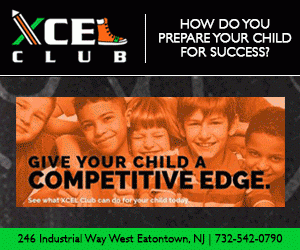 Holmdel Township Recreation Department
Programs and activities are also available through the Holmdel Townships Parks and Recreation website. Click here for additional information.