Playoffs are finished, Champs Decided in Boys 3 and Boys 78
The rec playoffs are officially over with the last of the tournaments finishing up Wendesday night. Yasnowski defeated Romano in the final game of the boys 78 tournament and Schmitt beat Guardavaccaro to decide the champ in boys 3.
Boys 4 is all over as Bavaro won on Monday night. The first final game in boys 56 was played on Saturday and saw Serini defeating Lavell to close out the season and take the crown.
Congratulations to the winners in the Boys HS league: Vassilakos and Bracco,
In the girls leagues, Zarraga defeated Flaherty on Monday to claim the championship in girls 34. In girls 56, Hynes forced a second final game by defeating Kline last week and completed the final round sweep by winning on Saturday to become champs.
Updated brackets are on the basketball page.
Congrats to Coach Hynes for winning the girls 56 league. From left to right: Kaylie Jorge, Alexandra Guarino, Eva Koukoumis, Gabriella Samaan, Michelle Steele, Jessica Donnelly, Preeya Chen, Riley Hynes. Not pictured Aamna Ali and Alessandra Avella.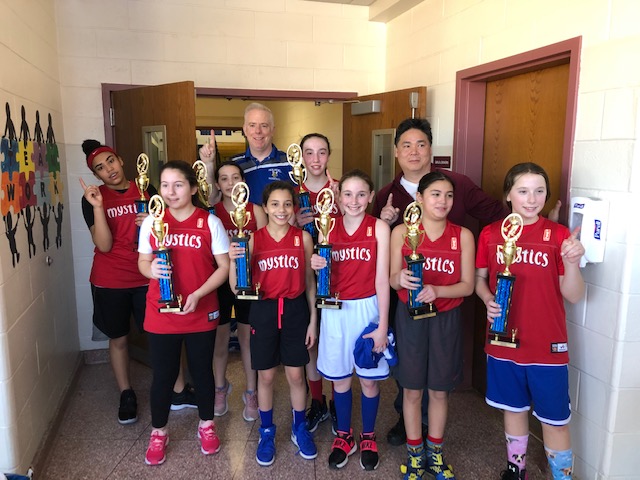 Coach Yasnowski's team celebrated their victory on Wednesday night. Pictured from L to R: Ryan Hammer, Charlie McGill, Alex Hendrickson, JV Lobifaro, Dan Lynch, Jared Yasnowski, coach John Yasnowski. Missing: James Gallinaro and Ruisi Luo.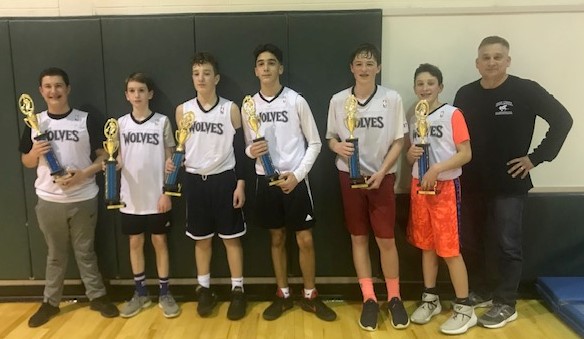 Team Schmitt's Thunder was all smiles after winning the boys 3 league. Kids in photo are: Top row left to right, Joshua Pollock, Zachary Daub, Liam Schmitt, Kyle Colie, John Wassef. Bottom row left to right, Owen Mulligan, Samuel Chu, Derek Kittner. Missing team players: Dominic Palmieri and Karam Elgamal.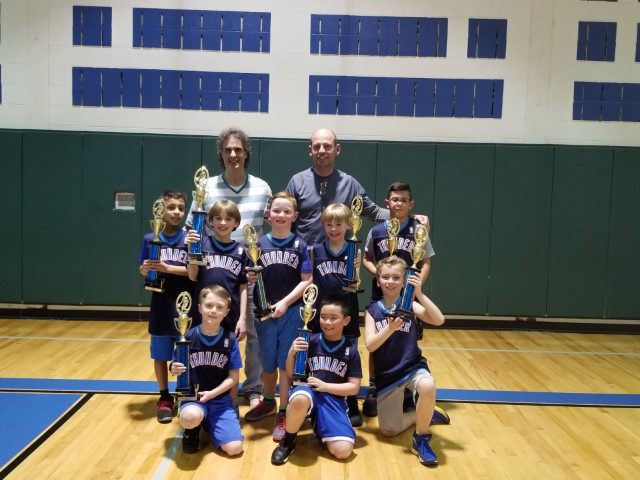 Basketball Stations Schedule
The younger grades have a full slate of station clinics scheduled starting Friday, 2/15. All stations nights will be held in the VILLAGE NEW GYM.
The schedule for the Friday stations are as follows:
2/15 6:00 - 6:55 Clinic 7:00 - 7:55 Girls 1/2
2/22 CANCELLED
3/1 6:00 - 6:45 Clinic 6:45 - 7:30 Girls 1/2

CANCELLED


3/8 6:00 - 6:55 Boys 1 7:00 - 7:55 Boys 2
3/15 6:00 - 6:55 Clinic 7:00 - 7:55 Girls 1/2
3/22 6:00 - 6:55 Boys 1 7:00 - 7:55 Boys 2
Boys 4th and 5th grade travel teams win Mid-Monmouth league title
Congratulations to the Boys 4th Grade Travel A team. This talented group of hard-working boys finished the season with a 20-1 record. This includes a 4-1 record against last year's winner, Marlboro, who they defeated in the finals. Coaches Sean, Mark, and Rich want to thank all of the parents and HYAA for their support.
From left to right: Coach Rich Dormer, Kyle Silberman, Daniel Lavan, Turner Foster, Anthony Serini, David Perrotti, Isaiah Stone, Anthony Bavaro, Dylan Enrico, Elliott Bronowich, Andrew Mardahaev, Tyler O'Connor, Gavin Schmitt, Coach Mark Bronowich, JD Dormer, and Coach Sean O'Connor.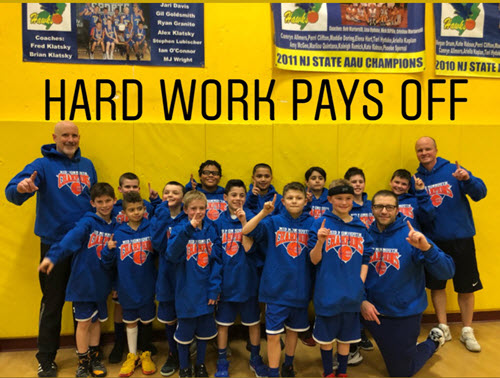 Congrats to the Holmdel Hornets 5th Grade Travel A Boys Basketball Team for pulling off the Mid-Monmouth Championship 3-peat. The team continued it's undefeated run in Mid-Monmouth postseason play (as a number 2 seed this time) by beating Manasquan, Tinton Falls in a thriller, Jackson, and Manalapan in the final. The team finished the Mid-Monmouth season 16-2. The team now looks to complete a 3-peat in the Hazlet tournament next. Coach Scott Cannon and Assistants James Vallillo and Bobby Mander are extremely proud of the hard work and dedication of all the boys on the team. Well done!
Picture attached. Players left to right are: James Murphy, Dylan Zammit, Jack Cannon, Connor Paul, Remy Mander, Mike Pellegrino, Jack Vallillo, Luke Scheiss, Finn Buchan, Gio Ricciardi.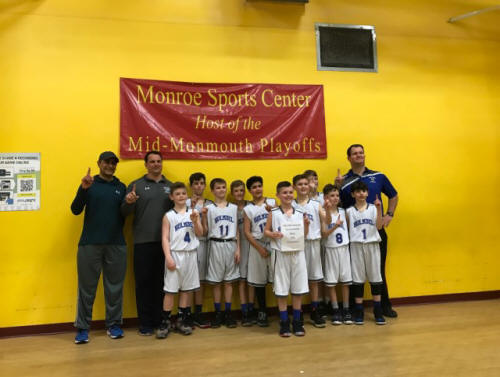 7th Grade Girls Win Mid-Monmouth Championship
The Holmdel 7th grade girls completed a Cinderella Run to win the Mid-Monmouth Basketball Championship in a thrilling 35-24 victory over Monroe. This is the second Mid-Monmouth Championship that this team has won in their 4 years playing together under Coach Flavio Rubano, with their first Championship back in the 2016-2017 season.
From left to right, First Row: Fiona Flaherty, Julia Saporito, Grace Kolbasovsky, Allison Cannon, Rebecca Lamberti, Paige Pisano.
Second Row: Head Coach Flavio Rubano, Felicia Arena, Rachel Quirk, Ava Rubano, Elisa Gunawardana, Gabriela Postigo, Assistant Coach Ellen Flaherty.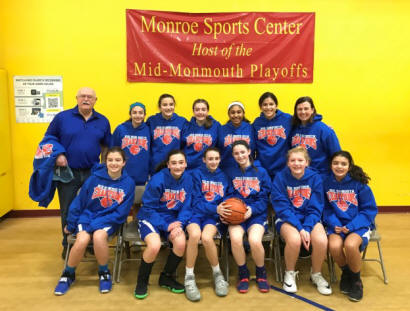 Registration For Spring Programs
Registration for the 2019 baseball season officially begins January 4th. League participation is based on the player's age as of April 30, 2019. Registration ends March 8th.
Check the program overview for additional information.
For boys aged 4-5 (must be 4 by 4/30/2019)
recommended for 1st year players
BOYS T-BALL REGISTRATION
Registration For Spring Programs
Registration for the 2019 softball season officially begins January 4th. League participation is based on the player's birth year. Registration ends March 8th.
Check the program overview for additional information.
For girls aged 4-5 (birth year is 2013 or 2014)
GIRLS T-BALL LEAGUE
Registration Now Open
Registration for the 2019 lacrosse season officially begins January 4th. League participation is based on the player's current grade.
The Girls team is now FULL. Please email your child's name, grade, and contact info if you want her name to be added to the list.
BOYS PROGRAMS
HYAA will be offering programs for boys in grades K-2 (instructional clinic) as well as leagues for grades 3/4, 5/6, and 7/8.
Check the program overview for additional information.
GIRLS PROGRAMS
HYAA will be offering programs for girls in grades K-2 (skills clinic) as well as three teams for girls in grades 3/4, 5/6, and 7/8.
Check the program overview for additional information on the K-2 clinic and the grades 3-8 competitive leagues.
For girls in grades 3-8
GIRLS LACROSSE LEAGUE - Full
MISCELLANEOUS
Important Dates
| | |
| --- | --- |
| Mar 25 | Softball Practices Begin - weather permitting |
| Mar 30 | Baseball Practices Begin - weather permitting |
| Apr 2 | Rutgers SAFETY course - Reserve a seat |
| Apr 5 | Baseball Games Begin |
| Apr 13 | Annual Parade/Fair at Cross Farm Park |
HYAA hosting Rutgers SAFETY course
HYAA will be hosting the three hour Rutgers SAFETY course on Tuesday, April 2 in the Satz library. Registration starts at 6:30 and the course will run from 7-10pm. The Rutgers course is mandatory for all HYAA coaches. The course tends to fill up so please read the details of the course and reserve your seat.
HYAA Office Administrator Wanted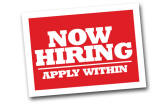 Overview
HYAA is seeking an organized, self-motivated office administrator to join our organization. In this position, the individual will manage a variety of administrative tasks such as addressing minor issues from our members, light accounting work, managing our team management software and social media sites. A positive attitude, attention to detail, strong interpersonal skills are a must.
Responsibilities
ensure filing systems are maintained and current
execute procedures for record keeping
prepare weekly deposit, reconcile accounts, travel to bank and accountant
strong working knowledge of office policies and procedures and complete tasks with adherence to these policies and procedures
prepare operational reports
monitor and maintain office supplies inventory
handle all inquiries on phone or in person effectively and efficiently
oversee the HYAA Website and Social media Sites
Requirements
Must be able to multi-task
Must have strong computer skills including Word and Excel, including ability to trouble shoot and teach HYAA's team management program (TeamSnap)
Must be able to perform duties with little or no guidance, intuitive thinker, proactive
Must be available for monthly HYAA meetings, held in the evening, and various other HYAA related events including Rutgers classes and picture days
Must be available for intermittent summer hours
Must have strong interpersonal/customer svc skills
Must be Tech Savy - social media experience
Email resume to admin@hyaa.org or mail to PO Box 49 Holmdel, NJ 07733. Application deadline is March 1, 2019
HYAA Advertising Program
Please partner up with HYAA and help serve the youth of our community by providing them with the necessary tools to learn the sports of Baseball and Softball.
PROMOTE YOUR BUSINESS WITHIN THE COMMUNITY
HYAA is offering a sponsorship opportunity for 2017 at our busy Phillips Park Fields. All signs will be displayed for the entire season. Be sure to print out the HYAA Sponsorship form and return it to the HYAA office.
Thanks to the HYAA Sponsors
HYAA would like to thank all of our sponsors for their donations and continued support of our programs.
C & C Air Conditioning & Heating
CK Baseball 4U
Cold Stone and Blimpies
Cracked Olive
Dicks Sporting Goods
Elizabeth Truck Center
Hoch Orthodontics
JRC Electrical
Modell's
Rockwell Dentistry
Salerno's Pizzeria
Shrewsbury Orthodontics
Stillwell Hansen Inc.
Stop & Shop
Vonage
Coach Background Checks
Coaches must fill out the background check form, and bring a drivers license to the office or to a Pre-Season Coaches Meeting in order to coach in HYAA. This applies to all head coaches and assistants. The fee will be paid by HYAA. Forms will be available at the monthly HYAA meetings, in the HYAA office, and at any Pre-Season Coaches Meetings. Background checks must be completed every two years.
Coach's Guide to Concussions in Youth Sports
Please use link below to take the CDC free Coach's Concussion Course:
http://www.cdc.gov/concussion/headsup/training/index.html
You can use this link for downloadable materials available from the CDC website on concussions:
http://www.cdc.gov/concussion/HeadsUp/youth.html
Holmdel Township Recreation Department
Programs and activities are also available through the Holmdel Townships Parks and Recreation website. Click here for additional information.