Parents of children grades 7-12:
Student Volunteers Needed for HYAA Soccer - Earn Community Service Hours
HYAA Soccer is looking for student volunteers for community service hours to help coaches with practices and/or games. Students can choose when they want to attend.
Available time slots are:
Saturdays 9:00am - 10:15 am 10:30am - 11:45am
Tuesdays 5:30pm - 6:45pm
Thursdays 5:30pm -6:45pm
Anyone interested can email Jim Calhoun at jimcalhoun1@verizon.net or call 732-939-7930.
Registration Now Open for Rec Basketball Season
The HYAA organization has moved to a TeamSnap registration process. TeamSnap is an online mobile-enabled sports team management application that allows our league, coaches and parents a more efficient means of communication schedules and team events. Our registration process will be very similar to what was in place and will take less than two minutes to complete. If you do not have a TeamSnap account, you will be asked to create one as you register (requires an email address and password). Please register using the online registration form. EVERYONE MUST CREATE A FAMILY ACCOUNT and register your child(ren) on TeamSnap. You can pay online by credit card or forward a check to the HYAA office. If you pay by check, please make sure that you put your child's name(s) and sport on the re line of the check or on a separate piece of paper when dropping of or mailing to the office (PO Box 49 Holmdel, NJ 07733).
Please the basketball page for additional information.
HYAA 2017 Travel Basketball Tryouts

HYAA will be conducting travel basketball team tryouts for girls 3rd/4th grade and boys 3rd grade (the grades the boys and girls are in right now). Travel teams are highly competitive, there will need to be some cuts as part of the evaluation process and there is no guaranteed playing time. The HYAA recreation program, which is more developmental and ensures a relatively even level of playing time, will be accepting sign-ups in October. See the basketball page for tryout dates and times.
Please complete the Travel Basketball Tryout Registration form and return it to HYAA by September 27th.
HYAA Travel Baseball Tryouts
HYAA will be holding tryouts for the travel baseball teams in all age groups. Tryouts are TENTATIVELY scheduled for the following dates.
Sept 23
TRYOUTS WILL BE HELD AT THE INDIAN HILL MOUND AND LOWER FIELDS
11:00 8u
12:00 9u
1:00 10u
2:00 11u
3:00 12u
Oct 14
Tryout times and location are TBD
Please see the Travel Baseball Page for additional information about the tryout process and travel teams in general.
Wrestling Registrations Now Being Accepted
Registrations for the upcoming wrestling program are now being accepted, You must use the online registration forms through Teamsnap. There are two programs being offered:
PRE- SEASON WRESTLING CLINIC
Clinic is for grades 1-8 (ages 6-14) beginning Thursday, October 12th through Thursday, November 16th. The clinic is designed for children who have 0-1 year experience. Sessions will be held from 6:30-8:00 pm in the Holmdel High School wrestling room on the following dates: 10/12, 10/19, 10/26, 11/2, 11/8, 11/16.
FEE: $50
Preseason Wrestling Registration
WRESTLING SEASON REGISTRATION
This three-month wrestling program is for grades 1 – 8 beginning Tuesday, November 14th and ending Thursday, February 15th. Sessions will be held on Tuesdays and Thursdays from 6:30-8:00 p.m. in the Holmdel High School wrestling room.
FEE: $100
Winter Wrestling Registration
$25 – 2017-18 Association Fee (payment of annual fee is for the first HYAA sport participated in each school year, not calendar year)
For additional information on HYAA wrestling please go to HolmdelWrestling.com.
8U Softball Champions!
The 8U Holmdel Hornets claimed the All Shore Championship following a tough game against the Barnegat Bandits, final score 9-8.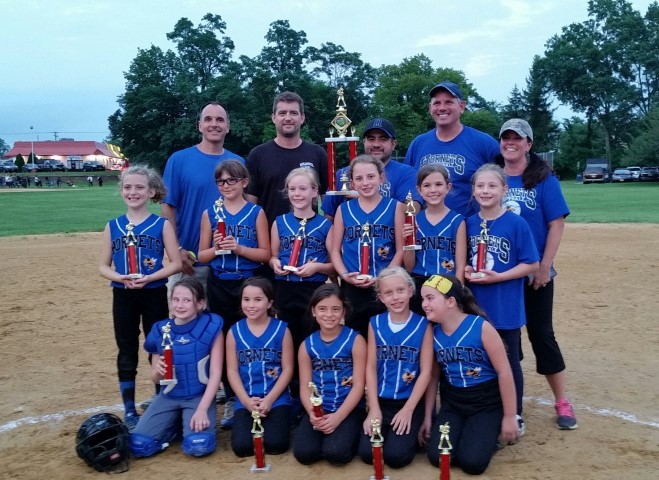 Pictured From Back to Front , left to right.
Back Row -Rory Gourlay, Fred Messihi, Anthony Vanario, Bruce Henderson, Stacey Savage
Middle Row - Margot Messihi, Sam Ayers, Delany Savage, Julia Henderson, Madeline Tuccillo, Olivia Youdelman
Front Row - Molly Dasaro, Isabella Pego, Emma Vanario, Avery Gourlay, Elizabeth Salerno,
Not Pictured Paige Piscatelli
Congratulations to the Minor League All-Stars!
After thunder and rain chased players from the field Saturday night, the All Star game took place Father's Day morning. The game was extremely competitive, ending in a 6-6 tie which made for a memorable Father's Day. Special thanks to all the parents who got their girls to the field early on a Sunday morning!
MISCELLANEOUS
Important Dates
| | |
| --- | --- |
| Sep 20 | Basketball Registration Open |
| Sep 20 | Wrestling Registration Open |
| Sep 26 | Board of Education Referendum Vote |
| Oct 8 | Basketball Early Registration Discount Ends |
| Nov 13 | Basketball Practices Begin |
| Dec 11 | Basketball Games Begin |
Holmdel Board of Ed. Referendum - Vote on Sept 26
Don't forget to vote on the Holmdel Board of Education Referendum on Sept 26th, 2017 from 4-8 PM
For information regarding the referendum you can click on the following link:
https://sites.google.com/holmdelschools.org/holmdel2020/athletics
HYAA Advertising Program
Please partner up with HYAA and help serve the youth of our community by providing them with the necessary tools to learn the sports of Baseball and Softball.
PROMOTE YOUR BUSINESS WITHIN THE COMMUNITY
HYAA is offering a sponsorship opportunity for 2017 at our busy Phillips Park Fields. All signs will be displayed for the entire season. Be sure to print out the HYAA Sponsorship form and return it to the HYAA office.
Thanks to the HYAA Sponsors
HYAA would like to thank all of our sponsors for their donations and continued support of our programs.
Bull Pen Baseball & Sports Academy
C & C Air Conditioning & Heating
CCK's Baseball 4U
Cold Stone and Blimpies
Cracked Olive
Dicks' Sporting Goods
Elizabeth Truck Center
Gemini Laboratories
Hoch Orthodontics
I Play
JRC Electrical
Modell's
Rockwell Dentistry
RTI Builders
Salerno's Pizzeria
Shrewsbury Orthodontics
Stillwell Hansen Inc.
Stop & Shop
Vonage
Coach Background Checks
Coaches must fill out the background check form, and bring a driver's license to the office or to a Pre-Season Coaches Meeting in order to coach in HYAA. This applies to all head coaches and assistants. The fee will be paid by HYAA. Forms will be available at the monthly HYAA meetings, in the HYAA office, and at any Pre-Season Coaches Meetings. Background checks must be completed every two years.
Coach's Guide to Concussions in Youth Sports
Please use link below to take the CDC free Coach's Concussion Course:
http://www.cdc.gov/concussion/headsup/training/index.html
You can use this link for downloadable materials available from the CDC website on concussions:
http://www.cdc.gov/concussion/HeadsUp/youth.html
ADVERTISEMENT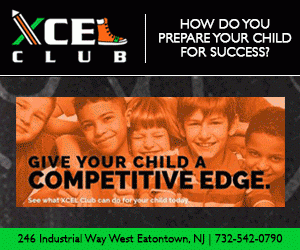 Holmdel Township Recreation Department
Programs and activities are also available through the Holmdel Townships Parks and Recreation website. Click here for additional information.