8th Grade Boys Take Mid-Monmouth Championship in OT
The 8th Grade Boys Basketball Team completed their Mid Monmouth careers winning the 2015 Championship in an overtime thriller, beating their bitter rivals, Marlboro, 47-44. After finishing the season 8-4 in the competitive West Division, the Hornets rolled off wins against Oceanport (# 3 seed from the East) 47-22, Manalapan ( #2 seed from the West )55-26, Middletown South (#4 Seed from the West)49-47 and finally the #1 seeded Marlboro at the Monroe Sports Center. The boys would like to dedicate their final win to their families for their perpetual support in games and at practices for all those years!!!
Pictured (Coaches L to R) Scott Lamountain, Brian Coffaro and Pete Cannizzo.
(Players L to R) John Tomasulo, Doug Chan, Michael Laforte, Derek Chan, Peter Cannizzo, Josh Solovey, Jack Giamanco, Michael Hendrickson, Quinn Coffaro, Eric Hinds and Cam Lamountain.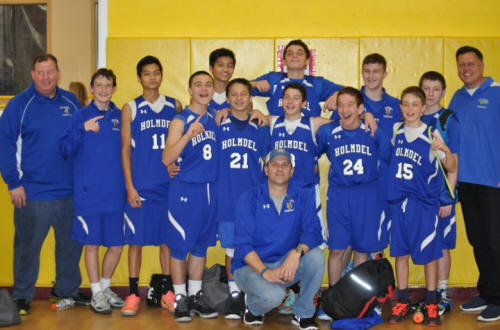 Baseball/Softball Registration Now Open
Registration forms for the spring baseball and softball seasons have been distributed to the schools. The forms are also available on the baseball page. Online registrations are also being accepted. Be sure to register by February 29th to receive the early registration discount.
Note that this year both baseball and softball have adopted more of an age-specific approach to the leagues. Please see the registration forms for more information.
HYAA Softball Pitching Clinic
Our HYAA softball pitching clinic is a new program starting in Holmdel in an effort to develop many talented pitchers to support our rec, travel and school programs. This introduction to pitching is the first in a series of progressive pitching clinics HYAA will offer our female athletes. They will run in six or eight week cycles and our goal is to have our players progress through the programs over a nine to twelve month period. There is no obligation to continue and players can drop out at any time. The clinic will be led by Suzanne Hennessey, a former Division 1 pitcher at St. Peterís college and an experienced player and coach. Please see the registration form for more information.
Holmdel HS Softball Winter Clinic
Holmdel HS Varsity Softball Coach Nora Bosmans will once again be running winter clinics for girls in grades 1 to 8. The registration form has all the information on the 8 week clinic which will run Wednesday evenings in the Satz gym from January 6th through February 24th. Please contact Coach Bosmans with any questions.
2015 Softball Coaches Handbook
Be sure to check out the 2015 Softball Coaches Handbook. This terrific guide is full of tips and ideas about getting the most out of coaching and is a great source of information for coaches at all levels.
Registrations for the upcoming Spring Lacrosse season are now being accepted. Please see the lacrosse section for details on the programs being offered and the registration forms.
** BOYS 5/6 REGISTRATION IS NOW CLOSED **
Info for the HYAA Wrestling program is now at HolmdelWrestling.com.
MISCELLANEOUS
Important Dates
| | |
| --- | --- |
| Feb 1 | Baseball/Softball Registration Starts |
| Feb 15 | Registration deadline for Boys and Girls Lacrosse |
| Feb 29 | Early discount ends for Baseball/Softball registration |
Time To Help One of Our Own
After fighting and recovering from cancer just two years ago, Tim McDonnell, Sr. received the phone no parent ever wants to receive. His son Tim, Jr. while attending Rutgers was struck by a car and placed in a medically induced coma. Now weeks later, Tim faces a long road to recovery, currently in a rehabilitation center showing some signs of hope.
The outpouring of support both from the Rutgers & local communities has been overwhelming but as you might imagine, the family faces mounting medical bills.
A website has been created www.FightforTimmy.com that provides more information as well as accepts donations online. Click here for some additional information.
The McDonnells have been involved in and supported many charities in the past and we are asking everyone's support to now help them in this difficult time.
Coach Background Checks
Coaches must fill out the background check form, and bring a driverís license to the office or to a Pre-Season Coaches Meeting in order to coach in HYAA. This applies to all head coaches and assistants. The fee will be paid by HYAA. Forms will be available at the monthly HYAA meetings, in the HYAA office, and at any Pre-Season Coaches Meetings. Background checks must be completed every two years.
Coach's Guide to Concussions in Youth Sports
Please use link below to take the CDC free Coach's Concussion Course:
http://www.cdc.gov/concussion/headsup/training/index.html
You can use this link for downloadable materials available from the CDC website on concussions:
http://www.cdc.gov/concussion/HeadsUp/youth.html
HYAA Advertising Program
Please partner up with HYAA and help serve the youth of our community by providing them with the necessary tools to learn the sports of Baseball and Softball.
PROMOTE YOUR BUSINESS WITHIN THE COMMUNITY
HYAA is offering a sponsorship opportunity for 2015 at our busy Phillips Park Fields. All signs will be displayed for the entire season. Be sure to print out the HYAA Sponsorship form and return it to the HYAA office.
Holmdel Township Recreation Department
Programs and activities are also available through the Holmdel Townships Parks and Recreation website. Click here for additional information.
ADVERTISEMENT