Soccer Schedules Being Finalized
Soccer schedules for the Fall 2015 season are being finalized and will be posted as they become available. Be sure to check the soccer schedule page for updates. The field numbering at Cross Farm as well as fields for away games in the older leagues are also available in the soccer section.
Fall Soccer Registration
The registration form for the 2015 fall season can be printed here. Forms can be mailed with payment or brought to the HYAA office during normal business hours with your check. Online registrations are no longer being accepted. See the soccer section for more information about the fall program. Registrations are now subject to a $50 late fee.
Student Volunteer Hours
All students who volunteered for HYAA soccer and need a community service form completed should send an email to Jim Calhoun at jimcalhoun1@verizon.net. You will need to provide your name, the number of hours completed and your current grade.
Travel Basketball Update
Travel basketball tryouts will be held for Boys 3rd grade and Girls 3rd/4th grade teams in late September. See the basketball section for more information and to register for the tryouts.
5th Grade Travel Team Has Summer Success
The Boys 5th grade travel basketball team had an extremely successful summer. They played in the Brookdale and TTBL summer leagues posting a combined 17-3 record. They went 8-1 in the Brookdale league finishing with the best record. They went 9-2 in the TTBL and won the TTBL championship game against Fair Haven.
From Left to Right- Elias Loucopolous, Justin Solovey, Jack Olinsky, Austin Straley, James Hanley, Tyler Ochojski, Tommy Sardo, Alex Stanyek and Michael Cardaci.
Coaches: Larry Olinsky and Mike Loucopolous.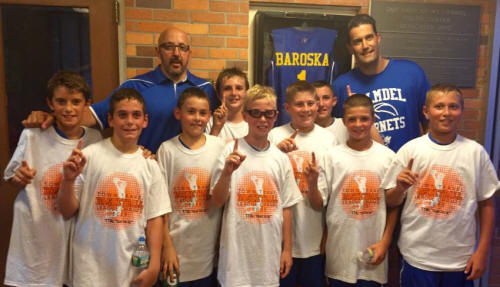 Free Instructional Softball Clinic
We will be running a free softball instructional clinic for our 7, 8, and 9 year old girls this Fall starting in September. The clinic will be on Tuesday evenings (5:30 p.m.) and Sunday mornings (9:30 a.m.) at Cross Farms field #2 . The clinic will work on all aspects of the game with a focus on having fun while they learn the proper techniques of fielding, throwing, batting, catching and base running.
We ask that any girl signing up for this clinic try to attend as many practices as possible and bring their own bat, glove and helmet (extras will be provided). If you are only able to make one of the two practices a week due to conflict in schedules we are open to having your child attend one day a week. Anyone interested should contact Anthony Vanario at avanario31@gmail.com. Emails should include child's name, age and which day or both days you plan to attend.
Fall Softball Update
Our 10-13 year old fall softball programs were unable to get enough participation to field full teams and therefore we will be issuing you a full refund. If your daughter is still interested in playing softball this Fall, the Hazlet softball league will accept registrations through the end of next week. The 2014 registration form can be submitted to HYAL or you can use Hazlet's online registration form.
We are currently working on finalizing a team at the 7, 8, and 9 year old level so if you registered in this age group the coach will be reaching out to you in the next few days. You will be required to register in the Hazlet league directly (please do so by next week) but all girls at this age group will play for a Holmdel team/coach.
Parents can contact the HYAA office with any questions or concerns.
Thank you for your support and we'll see you in the Spring.
New 2015 Softball Coaches Handbook
Be sure to check out the 2015 Softball Coaches Handbook. This terrific guide is full of tips and ideas about getting the most out of coaching and is a great source of information for coaches at all levels.
MISCELLANEOUS
Important Dates
| | |
| --- | --- |
| Sep 12 | Fall Soccer season begins |
Modell's Team Week 15% Coupon
Modell's Sporting Goods is once again offering HYAA a 15% discount on all purchases using the Team Week Coupon. The discount is valid through 9/17/2015 and can be used as often as you like. In addition, 5% of all purchases goes to HYAA to help fund all the great programs.
Girls 3rd/4th Grade Travel Team Champs
The odds were against the girls 3/4th grade travel team facing an older, bigger, stronger, faster Marlboro team. There is no measurement for the heart of a champion though! Down 13-6 toward the end of the 3rd quarter, this young group rallied for a miraculous 18-17 comeback victory Sunday 3/8, winning Holmdel's 1st Mid Monmouth championship in a long time! Julia Karpell led the Hornets with 12 points, including a long jumper to cut the deficit to 15-14 with a minute to go. Erica Stolker went 6 for 6 from the foul line in the fourth quarter, including 4 free throws in the last 40 seconds that turned a 15-14 deficit into an 18-15 lead. The girls never looked back and finished the game strong to bring home the title! These girls worked so hard throughout the year – each contributed to an amazing season. All 11 great Holmdel families could not be more proud!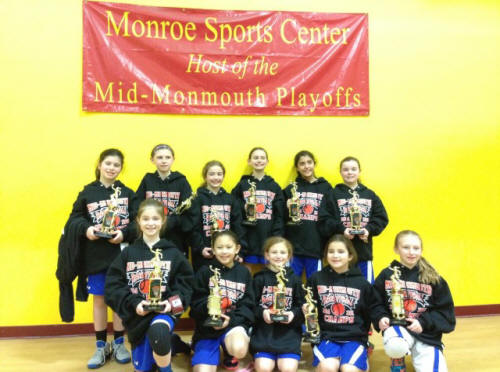 Pictured wearing championship sweatshirts:
(top from left): Julia Karpell, Janie Bachman, Ava Rubano, Olivia Calhoun, Alexandra Loucopoulos, Jamie Decicco. (bottom from left): Allison Cannon, Maddie Fanelli, Erica Stolker, Rachel Quirk, Maggie Lamountain.
The team is coached by Dawn Karpell, Mike Loucopoulos, and, Rob Stolker. Team coordinator is Danielle Cannon.
HYAA 3rd Grade Boys Undefeated Champions!
The Holmdel third grade boys travel basketball team became champions of the 2015 Mid Monmouth League on March 8th , beating Marlboro by a score of 34-22. Not only did the boys win the championship, they also had an undefeated 10-0 record in the Mid Monmouth regular season. Overall for the season the team went 21-0 in their age division! The kids really worked hard, learned a lot about basketball and had a lot of fun. The head coach is Iker Iturbe. He is assisted by Brendan Sharpe and John Polivka.
Top Row Players left to right: James Vallillo, Julen Iturbe, Luke Wassef, Ben Kipnis and Will Gilfillan. Bottom Row left to right Lawrence Mancino, Gary Collyer, Patrick Sharpe, Tyler Gravier, Matt Tempone, Luke Brand and Colin Polivka. Coaches left to right Brendan Sharpe, Iker Iturbe and John Polivka.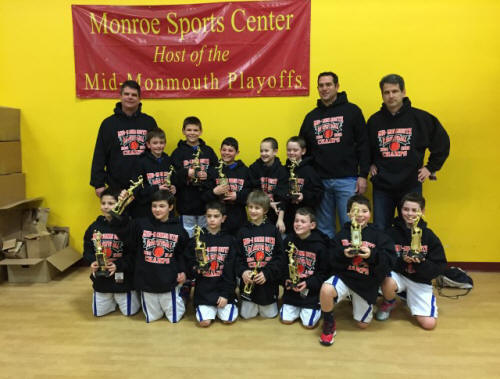 Time To Help One of Our Own
After fighting and recovering from cancer just two years ago, Tim McDonnell, Sr. received the phone no parent ever wants to receive. His son Tim, Jr. while attending Rutgers was struck by a car and placed in a medically induced coma. Now weeks later, Tim faces a long road to recovery, currently in a rehabilitation center showing some signs of hope.
The outpouring of support both from the Rutgers & local communities has been overwhelming but as you might imagine, the family faces mounting medical bills.
A website has been created www.FightforTimmy.com that provides more information as well as accepts donations online. Click here for some additional information.
The McDonnells have been involved in and supported many charities in the past and we are asking everyone's support to now help them in this difficult time.
Coach Background Checks
Coaches must fill out the background check form, and bring a driver's license to the office or to a Pre-Season Coaches Meeting in order to coach in HYAA. This applies to all head coaches and assistants. The fee will be paid by HYAA. Forms will be available at the monthly HYAA meetings, in the HYAA office, and at any Pre-Season Coaches Meetings. Background checks must be completed every two years.
Coach's Guide to Concussions in Youth Sports
Please use link below to take the CDC free Coach's Concussion Course:
http://www.cdc.gov/concussion/headsup/training/index.html
You can use this link for downloadable materials available from the CDC website on concussions:
http://www.cdc.gov/concussion/HeadsUp/youth.html
HYAA Advertising Program
Please partner up with HYAA and help serve the youth of our community by providing them with the necessary tools to learn the sports of Baseball and Softball.
PROMOTE YOUR BUSINESS WITHIN THE COMMUNITY
HYAA is offering a sponsorship opportunity for 2015 at our busy Phillips Park Fields. All signs will be displayed for the entire season. Be sure to print out the HYAA Sponsorship form and return it to the HYAA office.
Holmdel Township Recreation Department
Programs and activities are also available through the Holmdel Townships Parks and Recreation website. Click here for additional information.
ADVERTISEMENT