Opening Day Parade and Team Photo Info
This Saturday is our annual parade and fair at Cross Farm. The parade will begin at 10:30am. Teams should gather by their coaches at 10:00am. All teams will line up between Cross Farm 3 and 4. See the map of Cross Farm fields for reference.
There will be a photographer to take team pictures after the parade. Price List
He will remain at Cross Farm until 3pm to schedule time with any team that would like to take team/player pictures. In addition, he will take action shots for any games being played at Cross Farm on Saturday.
Based on the number of teams interested in having team photos taken, we will schedule timeslots for each team after the parade and HYAA presentations starting around 12pm. Below is the picture schedule. All efforts were made to work around games and travel time for away games.
If the parade ceremony is running late, please bring your teams to the photo area at your scheduled start time regardless. The Photo area will be by the shed between Cross Farm Field 1 & 2.
| | | | |
| --- | --- | --- | --- |
| | | League | Coach |
| 11:10 | | Baseball Rookie | Carri |
| 11:20 | | Baseball Rookie | Lauter |
| 11:30 | | Softball Tee Ball | Ciambrone |
| 11:40 | | Baseball Majors 1 | Murphy |
| 11:50 | | Baseball Majors 1 | Berardi |
| 12:00 | | Basebal Majors 1 | Reddy |
| 12:10 | | Baseball Minors | Bowden |
| 12:20 | | Baseball Minors | Colie |
| 12:30 | | Basebal Majors 1 | Hazel |
| 12:40 | | Baseball Minors | Trimble |
| 12:50 | | Baseball Minors | Desarno |
| 1:00 | | Baseball Rookie | Costella |
| 1:10 | | Baseball Rookie | Tomba |
| 1:20 | | Softball Clinic | McGoey |
| 1:30 | | Softball Clinic | Yasnowski |
| 1:40 | | Baseball Majors 1 | Spicer |
| 1:50 | | Baseball Majors 1 | Schmidt |
| 2:00 | | Softball Tee Ball | Pento |
| 2:10 | | Baseball Minors | Pesce |
| 2:20 | | Softball Clinic | Nolan |
| 2:30 | | Baseball Minors | Barry |
| 2:40 | | Baseball Minors | Bavaro |
Many Thanks to Former Commissioners Briamonte and Migliazza!
As incoming commissioners we are grateful to the many years of hard work that Chris Briamonte and Giovanni Migliazza have dedicated to the softball program during their tenure. Without their commitment to softball, the recreation and travel programs would not be what they are today.
Holmdel 14U Softball Wins All-Shore Spring Classic
This Sunday the 14U Holmdel Hornet Softball team braved the cold and wind to win the All Shore Spring Classic Tournament. (East). Read more
Yankees Game Day
The Holmdel Travel Softball Program is hosting a day at Yankee Stadium on Sunday July 30th. Everyone who attends get a seat in the 200 section. Players in a Holmdel team jersey will get the chance to march in a pregame parade on the field. Each player participating in the parade will also receive a $10 Models gift card and a voucher for two tickets to a future Yankees game. Participants get all of this for only $50 per ticket. Best of all, proceeds for this event benefit the Holmdel Travel Softball Program. Be sure to download the printable registration form.
Travel Basketball Teams Take Home Titles in Mid-Monmouth Playoffs
The Holmdel basketball travel teams concluded their Mid- Monmouth winter seasons in an impressive fashion over the weekend of March 11-12 by taking home two titles along with a runner-up finish and an overtime semifinal loss in the 5 divisions of Boys and Girls play. The Mid-Monmouth Winter League consists of over 30 teams spread across Monmouth and Ocean counties.
The Boys 3rd grade team and the Girls 5th grade team took home top honors (see articles below)
The Boys 5th grade team, the two time defending Mid- Monmouth champions coached by Brendan Sharpe, fell in their quest for a three-peat as they lost a hard fought game in the finals.
The Boys 4th grade team coached by Jay Romano lost a heartbreaking Overtime game to the #1 seed Rumson in the semifinals. They finished the season with a 27-3 record along with a West Long Branch tournament championship to their credit.
The Girls 4th grade team led by Jeff Baker finished the season at 5-5 and advanced to the quarterfinals.
The Girls 6th grade (below) won the Hazlet Tournament 29-19 on March 26th over Marlboro.
Holmdel Hornets Boys 3 Finish a Perfect Season
The Holmdel Hornets won the Boys 8 Mid-Monmouth Travel basketball league with a win over Tinton Falls. Lead by Coach Scott Cannon, the 3rd Grade team finished with a perfect 20-0 season.
The team also swept the WLB Thanksgiving Tournament and Holiday Hoopfest Tournament.
"My heart is full and so happy to share in these life memories these boys have created!" says Coach Cannon in reaction to the final win.

Top Row: Coach James Vallillo, Jack Cannon, Jack Vallillo, Connor Paul, Dylan Zammit, Remy Mander, Michael Marzarella, Coach Scott Cannon, Coach Chris Trimble Bottom Row: Matt Trimble, Ben Marzarella, Michael Pellegrino, Tyler O'Connor.
Holmdel Hornets Girls 5 win Mid-Monmouth Title
The girls completed a great 20-4 season by winning the Mid-Monmouth championship!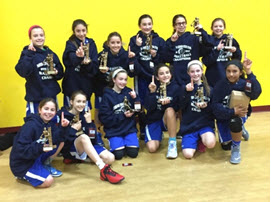 U10 Girls Mid-Monmouth Champions!

Bottom row- Gabby Bowden,Grace Kolbasovsky, Ava Rubano, Rachel Quirk, Allison Cannon, Elisa Gunawardana, Top row- Fiona Flaherty, Felicia Arena, Alyssa Rapoport, Julia Saporito, Sofia Campillay & ,Jadeyn Pavlik.
The Holmdel High School TV and Film Society will be holding the 3rd Annual 3-on-3 Tournament on March 29th in the HS gym. The tournament is open to kids in grades 5-12 and will be broken up into three divisions: 5th/6th grade, 7th/8th grade, and High School.
REGISTRATIONS ARE NO LONGER BEING ACCEPTED
FOR THE GIRLS PROGRAMS
Registrations are still being accepted for the 2017 Boys Lacrosse programs but space is limited
For information on HYAA wrestling please go to HolmdelWrestling.com.
MISCELLANEOUS
Important Dates
| | |
| --- | --- |
| Apr 17 | Softball Games Begin - schedules are on the Softball Page |
| Apr 17 | Baseball Games Begin |
| Apr 22 | Annual Parade/Fair at Cross Farm Park |
| Apr 22 | Baseball Games Begin - schedules are on the Baseball Page |
Modell's Team Week - Save Money and Support HYAA
HYAA is happy to announce Modell's Team Week will run from Tuesday, March 21 through April 27. In addition, on 3/25 & 3/26 Modell's will have an HYAA weekend. The staff will be on hand to assist everyone with questions in regards to bats, gloves and Lacrosse equipment. For the weekend HYAA members will be given 20 percent off.
Be sure to print out the coupon and use it as many times as you like. You'll save money and part of the proceeds will benefit HYAA. Thanks again to Modell's for supporting HYAA.
HYAA Advertising Program
Please partner up with HYAA and help serve the youth of our community by providing them with the necessary tools to learn the sports of Baseball and Softball.
PROMOTE YOUR BUSINESS WITHIN THE COMMUNITY
HYAA is offering a sponsorship opportunity for 2017 at our busy Phillips Park Fields. All signs will be displayed for the entire season. Be sure to print out the HYAA Sponsorship form and return it to the HYAA office.
Thanks to the HYAA Sponsors
HYAA would like to thank all of our sponsors for their donations and continued support of our programs.
Bull Pen Baseball & Sports Academy
C & C Air Conditioning & Heating
CCK's Baseball 4U
Cold Stone and Blimpies
Cracked Olive
Dicks' Sporting Goods
Elizabeth Truck Center
Gemini Laboratories
Hoch Orthodontics
I Play
JRC Etectrical
Modell'sbr>Rockwell Dentistry
RTI Builders
Salerno's Pizzeria
Shrewsbury Orthodontics
Stillwell Hansen Inc.
Stop & Shop
Vonage
Coach Background Checks
Coaches must fill out the background check form, and bring a driver's license to the office or to a Pre-Season Coaches Meeting in order to coach in HYAA. This applies to all head coaches and assistants. The fee will be paid by HYAA. Forms will be available at the monthly HYAA meetings, in the HYAA office, and at any Pre-Season Coaches Meetings. Background checks must be completed every two years.
Coach's Guide to Concussions in Youth Sports
Please use link below to take the CDC free Coach's Concussion Course:
http://www.cdc.gov/concussion/headsup/training/index.html
You can use this link for downloadable materials available from the CDC website on concussions:
http://www.cdc.gov/concussion/HeadsUp/youth.html
ADVERTISEMENT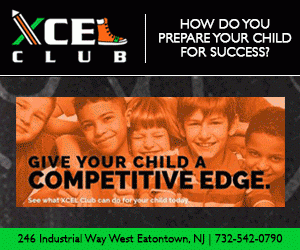 Holmdel Township Recreation Department
Programs and activities are also available through the Holmdel Townships Parks and Recreation website. Click here for additional information.