Rec Basketball Games Have Started
Games for the older leagues start the week of December 10th in all leagues. Full game and practice schedules are available on the basketball page.
7th Grade Girls Travel Team Wins Millstone Invitational
Congratulations to the 7th Grade Girls Travel Team who won 4 straight games to become the Millstone Invitational Tournament Champions!
From left to right, First Row:
Grace Kolbasovsky, Allison Cannon, Julia Saporito
Second Row: Paige Pisano, Elisa Gunawardana, Fiona Flaherty, Coach Flavio Rubano, Alyssa Rapoport, Felicia Arena, Rachel Quirk, Ava Rubano, Gabriela Postigo, Rebecca Lamberti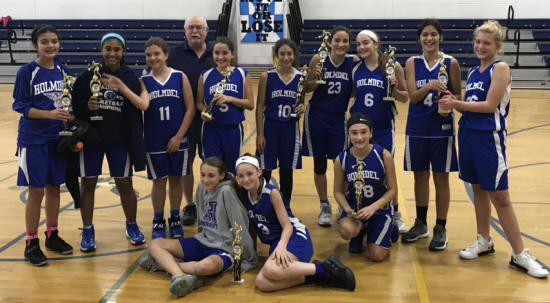 HYAA Girls Take 2nd Annual Fall Classic in Lawrence Township
Players in the Holmdel Girls Lacrosse program travelled to the Centercourt Sports Arena in Lawrence Township on Sunday, Oct. 28, for the Second Annual Fall Indoor Classic. Representing Holmdel at the event were members of the 3rd and 4th grade team that formed in the spring. The 7-on-7 tournament team played three games in their bracket, beating Lower Bucks, PA in an 8-7 nail-biter, tying Morristown Elite 7-7, and thumping Montgomery PA, 8-1. That performance put them in the championship game, where they played Centercourt's own team. The game ended in a tie, sending it into the so-called "Braveheart" overtime format, where three players from each team square off with no goalie – first goal wins. Centercourt's team fought off an early rush from Holmdel, and managed to score for the win. The girls displayed great skills and sportsmanship, building off the momentum they gained from their excellent spring season. Special mention goes to Olivia Dubin, who played goalie for the first time and was phenomenal in net.
Holmdel's Fall Indoor Classic girls lacrosse team:
Players: Ryan Buchan, Preeya Chen, Avery Dubin, Olivia Dubin, Maeve Flaherty, Mary Flanigan, Tori Imburgia, Emma Lynn, Tatum Sharpe, Cornelia Sweeney, and Season Yan.
Coaches: Mariah Dubin, Kevin Buchan, and Michael Flaherty.
MISCELLANEOUS
Important Dates
| | |
| --- | --- |
| Dec 10 | Basketball Games Begin |
HYAA Advertising Program
Please partner up with HYAA and help serve the youth of our community by providing them with the necessary tools to learn the sports of Baseball and Softball.
PROMOTE YOUR BUSINESS WITHIN THE COMMUNITY
HYAA is offering a sponsorship opportunity for 2017 at our busy Phillips Park Fields. All signs will be displayed for the entire season. Be sure to print out the HYAA Sponsorship form and return it to the HYAA office.
Thanks to the HYAA Sponsors
HYAA would like to thank all of our sponsors for their donations and continued support of our programs.
C & C Air Conditioning & Heating
CK Baseball 4U
Cold Stone and Blimpies
Cracked Olive
Dicks Sporting Goods
Elizabeth Truck Center
Hoch Orthodontics
JRC Electrical
Modell's
Rockwell Dentistry
Salerno's Pizzeria
Shrewsbury Orthodontics
Stillwell Hansen Inc.
Stop & Shop
Vonage
Coach Background Checks
Coaches must fill out the background check form, and bring a drivers license to the office or to a Pre-Season Coaches Meeting in order to coach in HYAA. This applies to all head coaches and assistants. The fee will be paid by HYAA. Forms will be available at the monthly HYAA meetings, in the HYAA office, and at any Pre-Season Coaches Meetings. Background checks must be completed every two years.
Coach's Guide to Concussions in Youth Sports
Please use link below to take the CDC free Coach's Concussion Course:
http://www.cdc.gov/concussion/headsup/training/index.html
You can use this link for downloadable materials available from the CDC website on concussions:
http://www.cdc.gov/concussion/HeadsUp/youth.html
ADVERTISEMENT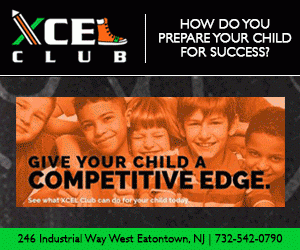 Holmdel Township Recreation Department
Programs and activities are also available through the Holmdel Townships Parks and Recreation website. Click here for additional information.