SOFTBALL INFO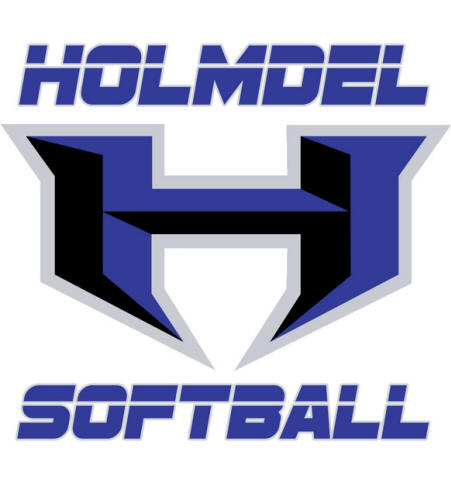 8U Softball Champions!
The 8U Holmdel Hornets claimed the All Shore Championship following a tough game against the Barnegat Bandits, final score 9-8.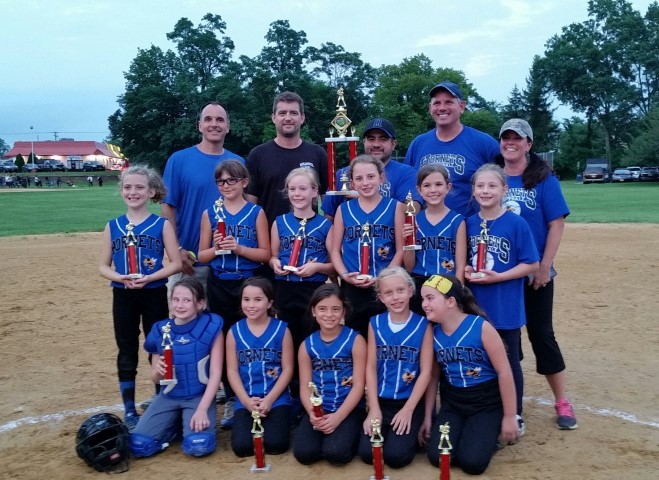 Pictured From Back to Front , left to right.
Back Row -Rory Gourlay, Fred Messihi, Anthony Vanario, Bruce Henderson, Stacey Savage
Middle Row - Margot Messihi, Sam Ayers, Delany Savage, Julia Henderson, Madeline Tuccillo, Olivia Youdelman
Front Row - Molly Dasaro, Isabella Pego, Emma Vanario, Avery Gourlay, Elizabeth Salerno,
Not Pictured Paige Piscatelli
Holmdel 14U Softball Wins All-Shore Spring Classic
This Sunday the 14U Holmdel Hornet Softball team braved the cold and wind to win the All Shore Spring Classic Tournament. (East).
The team went 3-0. Defeating Manalapan in the first game, 12-0, then the Brick Bombers 14-2, and finally went on to beat the Marlboro Mayhem 11-1 in the Championship Game.
Back row Left to right: Nikki Pavlik, Bruce Henderson, Chloe DiCianni, Grace DiCianni, Lindsey O'Brien, Dennis Pavlik, Moturayo Adeyeri, Gerard Lamberti. Front row: Anna Briamonte, Crystal Carino, Taylor Gourlay, Gillian Henderson, Vicki Whittle, Izzy Lamberti, Caitlyn Joyce, Chris Briamonte.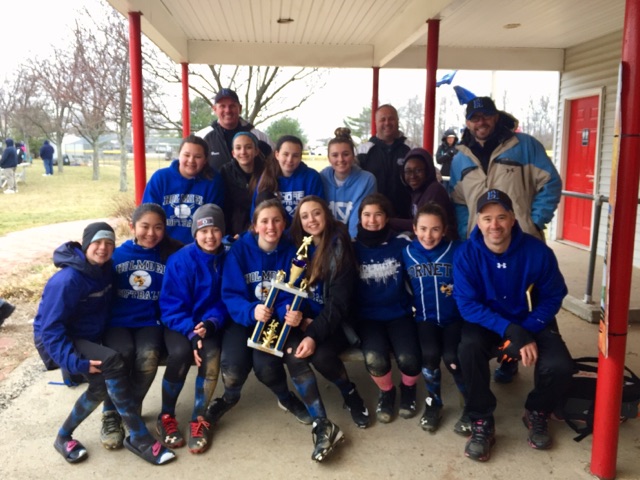 2017 CALENDAR
Registration Starts
Jan 18
Registration Ends
Feb 24
Late Registration - Fees apply
Feb 25
Registration Closes
Mar 9
Coaches Clinic/Meeting
Mar 20
Umpire Clinics
7 p.m. at HHS in room 411
Mar 29
Practices Begin
Weather permitting
Apr 1
Rutgers SAFETY Course - Reserve your seat
Apr 3
Games Begin
Apr 17
Annual Parade/Fair at Cross Farm
Apr 22
Travel Team Tryouts
Monday June 5 - 12u
Tuesday June 6 - 10u
Wednesday June 7 - 8u
Thursday June 8 - 14u
Friday June 9 - make-ups
Jun 5-9
All Star Games - Minors
Jun 17
Playoffs Start - Minors
Jun 19
Season Ends
TBD
Yankee Game Day
Registration form
Jul 30
SCHEDULES
PRACTICE/GAME SCHEDULES - Map of Cross Farm Fields
Maintained by Hazlet Youth Athletic League (HYAL)
Girls Tee Ball
Girls Clinic
Girls Minors
Girls Majors

PICTURE DAY
PLAYOFF SCHEDULES
-- UMPIRES --
Click here to log your games
ADMINISTRATION
Commissioners
Anthony Vanario
Bruce Henderson
Gary Lewandowski

hyaasoftballcommissioner@gmail.com
League Presidents
Girls T-Ball (born 2011-2012)
Angela Ciambrone
Girls Clinic (born 2009-2010)
John Yasnowski
Girls Minor (born 2006-2008)
Stacey Savage
Girls Major (born 2002-2005)
Michael Flaherty
Consistent with other towns in our area, we determine leagues based on birth year. Note that Travel Teams also follow birth year with their season running from Fall until Summer (teams change in August).
Director of Officials
Pat Demech
Cheer on the High School Softball Team
Come out and support the Holmdel High School softball team this season. This is a great opportunity to be a part of the growing Holmdel softball community and for girls to see what playing softball in high school is like. For the teams schedule, please click here.
Injury Report Form
In case of an injury sustained during an HYAA event, please print and complete the Injury Report Form and return it to the HYAA office. Please complete all relevant parts of the form.
Reporting Field or Equipment Problems
If you see anything you want to report about the condition of the baseball/softball fields, use the Field Maintenance Feedback form to report the situation directly to the supervisor of field maintenance.
Likewise, if you have any problem or concern about the equipment used for baseball/softball, use the Equipment Issue Feedback form to report the issue directly to the supervisor of equipment.

Softball Rules-All Grades - Updated for 2017
Coaches Handbook - If an HYAA coach would like a copy of the Coaches' Handbook or the Skill Guidebook, please contact your League President
Resources To Share With Parents
When You Give a Girl a Pair of Cleats
Sports Should Be Child's Play
Put Me in, Coach: How to Spark Kids' Love of Sports
Why Parents Should Push Their Kids to Play Team Sports