BASEBALL INFO
CK's Baseball 4U Training Academy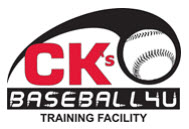 CK's Baseball 4U baseball training academy is a sponsor of HYAA baseball. CK's offers spring break and summer baseball camps, as well as individual and group lessons throughout the school year. Click on the CK's logo for information. If you patronize CK's please let them know you are a member of HYAA baseball.
New Standards for Youth Baseball Bats in 2018
In the interest of improving safety for players, Babe Ruth/Cal Ripken Baseball, Little League Baseball, and many other youth baseball leagues will have new standards for baseball bats for 2018. The new standards are described below. Since HYAA Baseball is a member organization of Babe Ruth/Cal Ripken Baseball, these standards will apply to the 2018 HYAA Rec league through age 12.
Furthermore, USABL Baseball, the league in which Holmdel Travel Baseball teams play, currently require bats that comply with Little League rules through age 10. Little League is also adopting the new standards for bats, so if the USABL continues to comply with Little League rules, USABL will require the new bats, at least through age 10.
HYAA Baseball currently has an HYAA week from Nov 2 - 12 with one of our sponsors, CK's Baseball 4U, for the purchase of baseball equipment, including, but not limited to bats. HYAA will receive 5% back on any purchases, and the purchaser will receive a CK's gift card. A coupon for CKs' HYAA Week can be downloaded here.
There is no requirement to purchase these bats from CKs. Bats meeting the new standards are likely to be available in most major sporting good chains as well.
New Youth Bat Standards
On January 1, 2018 USA Baseball will be implementing a rule change to bats. Players in Little League®, Babe Ruth & Cal Ripken Baseball, PONY, Dixie or AAAC will need to use a new bat marked with a new USA Baseball stamp. Bats without the new USA Baseball Marking will no longer be legal for play.
The bats currently on the market, which are marked with a 1.15BPF stamp, will no longer be legal for play in these leagues.
Babe Ruth - Cal Ripken League Bat Rules
2018
T-Ball
USA Baseball T-Ball Stamp
Cal-Ripken Baseball (up to age 12)
USA Baseball Marking
2 5/8" Barrel Maximum


NO BBCOR BATS
Babe Ruth Baseball 13-15
USA Baseball Marking or BBCOR .50
2 5/8" Barrel
USABL Baseball, the league in which most Holmdel Travel Baseball teams play currently have the following bat rules:
7. USABL Bat Rules
Players must use Little League approved bats on the 60 ft diamond. No bat larger than 2 ¼ barrel size will be allowed. USABL will be following the Little League ruling on composite bats on the 46/60 diamond. Composite handle bats are approved.

50/70 will be allowed to use any 2 1/4 or 2 5/8 bats metal or composite barrel and handle. No bat larger than 2 5/8 will be allowed on the 50/70 field.

8U through 10U Spring baseball is typically on a 46/60 diamond
2018 CALENDAR
Registration Starts
TBD
Early Registration Ends
TBD
Registration Ends
TBD
Coaches Meeting
TBD
Coaches Clinic
TBD
Practices Begin
Weather permitting
TBD
Umpire Clinics
TBD
Travel Team Tryouts
TBD
Rutgers Safety Course
TBD
Games Begin
TBD
Annual Parade / Fair at Cross Farm
TBD
All Star Games at Phillips Park
TBD
Playoffs Start
Majors 1 and Majors 2
TBD
Season Ends
TBD
SCHEDULES
ADMINISTRATION
Injury Report Form
In case of an injury sustained during an HYAA event, please print and complete the Injury Report Form and return it to the HYAA office. Please complete all relevant parts of the form.
LINKS
Reporting Field or Equipment Problems
If you see anything you want to report about the condition of the baseball/softball fields, use the Field Maintenance Feedback form to report the situation directly to the supervisor of field maintenance.
Likewise, if you have any problem or concern about the equipment used for baseball/softball, use the Equipment Issue Feedback form to report the issue directly to the supervisor of equipment.

Here are some articles from Bullpen, the official publication of the Babe Ruth League. The articles are great for rookie and veteran coaches and talk about ways to teach good, fundamental skills, and to keep the whole experience fun for everyone.