BASKETBALL INFORMATION
Basketball Season Ends With March Madness Games
The 2017 basketball season official came to a close with the annual March Madness All-Star games. Thanks to all who made the day possible and to all the kids who entertained the crowds with some very exciting games.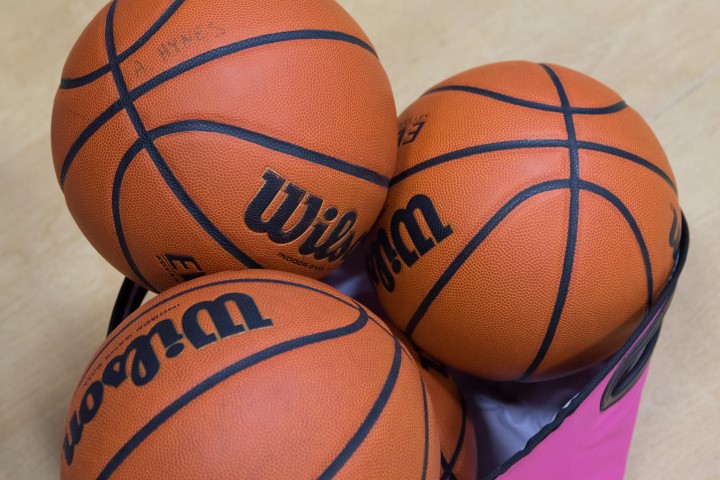 The webmaster was on hand to take some pictures of the boys 5th and 6th grade games and if anyone has photos to share please send them in.
Congrats to the Thunder and Coach Cieplinsky, champs in the Boys 5/6 league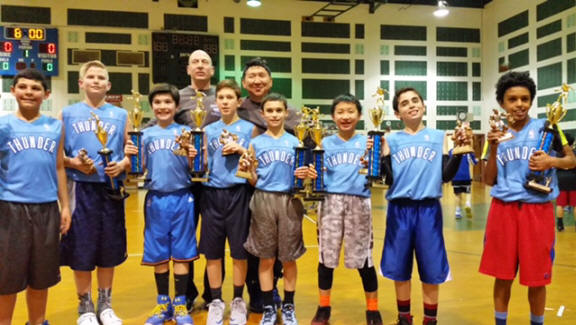 Boys 3 Travel Team Wins Hazlet Tournament
The boys 3rd grade travel team won the Hazlet basketball tournament by defeating Fair Haven for the championship and finished their season 24-0 by going undefeated in Mid Monmouth regular season and playoffs as well as undefeated in 3 different local tournaments. The boys are coached by Scott Cannon and assisted by Chris Trimble and James Vallillo. Players listed left to right Tyler O'Connor, Matt Trimble, Michael Pellegrino, Jack Cannon, Dylan Zammitt, Jack Vallillo, Ben Marzarella, Mike Marzarella, Remy Mander, Conner Paul.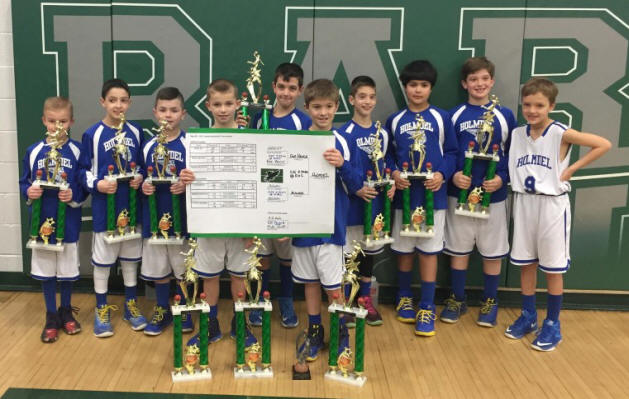 2016/17 CALENDAR
Registration Begins
Sep 26
Early Registration Ends
Oct 21
Registration Ends
Nov 18
League Presidents Meeting
After the HYAA meeting
TBD
Rutgers S.A.F.E.T.Y. Course
TBD
Coaches Meeting
Village Old Gym @ 6:30p-8:00p
Nov 28
Referee Clinics
>> New refs need to attend all 3
>> Returning refs need to attend 1
Dec 13 - 6:00pm IH New Gym
Dec 20 - 6:00pm IH New Gym
January class - TBD
Practices Start
Dec 3
Games Start
Jan 7
Picture Day
Indian Hill Cafetorium
Jan 21
Playoffs Start - grade 3 and up
Feb 25
March Madness
Mar 18
SCHEDULES
PRACTICE/GAME SCHEDULES
schedules for ALL grades
TODAY'S GAMES
see the full schedule for any given day
PICTURE DAY
Jan 21 - Indian Hill Cafetorium

PLAYOFFS
Boys 3 - Champion: Murphy
Boys 4 - Champion : Reddy / Heat
Boys 5/6 - Champion: Cieplinsky / Thunder
Boys 7/8 - Champion: Zolek / Bulls
Boys HS - Champion: Lupo
Girls 3/4 - Champion: Hynes
Girls 5/6 - Champion: Thunder
Girls 7-10 - Champion: Julian
MARCH MADNESS
March 18th Holmdel HS Main and New Gyms - GAME SCHEDULE

-- REFEREES --
Click here to log your games
ADMINISTRATION
Injury Report Form
In case of an injury sustained during an HYAA event, please print and complete the Injury Report Form and return it to the HYAA office. Please complete all relevant parts of the form.
LINKS
RULES:
All Leagues - General Rules
League Specific Rules
Basketball Commissioners' Responsibilities

Here are some great web sites with coaching info and ideas for drills.
Check 'em out!