BASKETBALL INFORMATION
Playoff Champs
After losing the first game of the playoffs the Heat (coached by Pete Reddy) won 6 in a row to claim the 4th grade title. Great effort by all the teams & two hard fought games by the Trailblazers (coached by Derrick Jackson).
Standing (l-r): Asst Coach Brian Volpe, Tyler Reddy, Brian Volpe, Mike McCormack, Hamza Elmesei, Coach Pete Reddy. Kneeling (l-r): James Aboujaoude, Logan Cardinoza, Nick Rakoski, Alex Pellicone.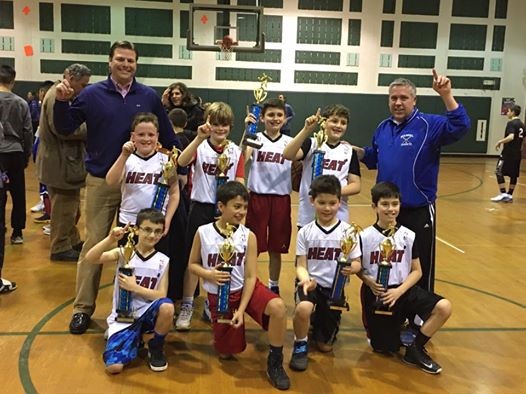 The Heat defeated a tough Trailblazers team (below) to close out their championship run.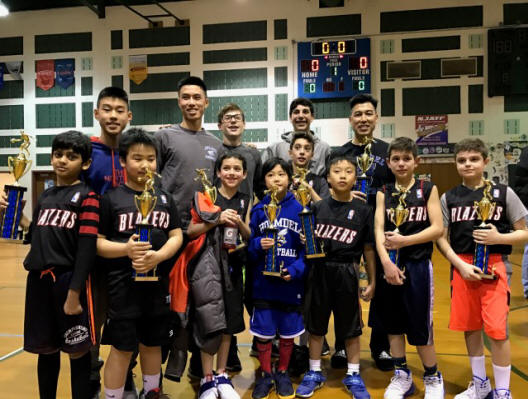 Back row L-R: Asst. Coaches Sam Jackson, Chris Jackson, Alex Finger, John Curreri, Head Coach Derrick Jackson. Front row L-R: Omar Faysal, Michael Chin Jr., Jake Finger, Isaac Jackson, Lukas Vellios, Nicholas Ng, Joe Curreri, Michael D'amico. Not pictured: Wyatt Hafer.
Coaches Hinds and Cannon and the Thunder are champs in the Girls 5/6 league.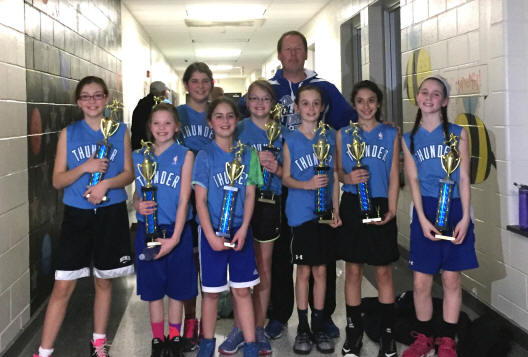 Coach Zolek and the Bulls, Boys 7/8 champs.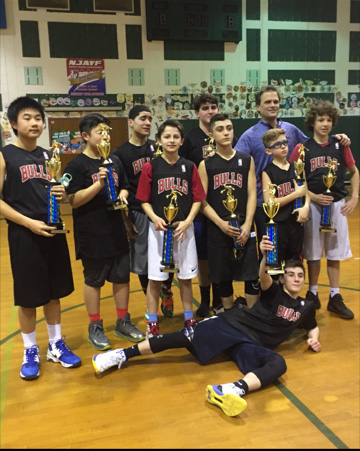 Coach Hynes and the Thunder are champs in Girls 3/4
2016/17 CALENDAR
Registration Begins
Sep 26
Early Registration Ends
Oct 21
Registration Ends
Nov 18
League Presidents Meeting
After the HYAA meeting
TBD
Rutgers S.A.F.E.T.Y. Course
TBD
Coaches Meeting
Village Old Gym @ 6:30p-8:00p
Nov 28
Referee Clinics
>> New refs need to attend all 3
>> Returning refs need to attend 1
Dec 13 - 6:00pm IH New Gym
Dec 20 - 6:00pm IH New Gym
January class - TBD
Practices Start
Dec 3
Games Start
Jan 7
Picture Day
Indian Hill Cafetorium
Jan 21
Playoffs Start - grade 3 and up
Feb 25
March Madness
Mar 18
SCHEDULES
PRACTICE/GAME SCHEDULES
schedules for ALL grades
TODAY'S GAMES
see the full schedule for any given day
PICTURE DAY
Jan 21 - Indian Hill Cafetorium

PLAYOFFS
Boys 3 - Champion: Murphy
Boys 4 - Champion : Reddy / Heat
Boys 5/6 - Champion: Cieplinsky / Thunder
Boys 7/8 - Champion: Zolek / Bulls
Boys HS - Champion: Lupo
Girls 3/4 - Champion: Hynes
Girls 5/6 - Champion: Thunder
Girls 7-10 - Champion: Julian
MARCH MADNESS
March 18th Holmdel HS Main and New Gyms - GAME SCHEDULE

-- REFEREES --
Click here to log your games
ADMINISTRATION
Injury Report Form
In case of an injury sustained during an HYAA event, please print and complete the Injury Report Form and return it to the HYAA office. Please complete all relevant parts of the form.
LINKS
RULES:
All Leagues - General Rules
League Specific Rules
Basketball Commissioners' Responsibilities

Here are some great web sites with coaching info and ideas for drills.
Check 'em out!